Supporting and Denouncing AAP, IITians Are Becoming More Active in Politics Now!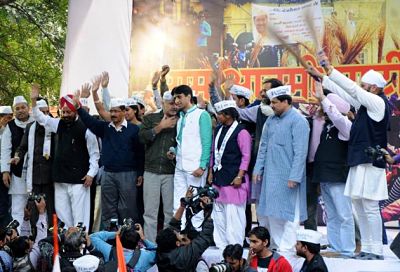 IITians have always been active in Indian politics. Jairam Ramesh did Mechanical Engineering from IIT Bombay while Ajit Singh did B.Tech from IIT Kharagpur. Another IITian, Infosys-fame Nandan Nilekani, is expected to join the politics too.
Recently Arvind Kejriwal, who passed out as a Mechanical Engineer from IIT Kharagpur, brought a major upheaval in Indian politics by dethroning the thrice CM Sheila Dikshit.
But Arvind is not the first IITian to become the CM of one of the Indian states. That honour goes to Manohar Parrikar, a Metallurgical Engineer from IIT Bombay, who became the CM of Goa before Kejriwal. Yet, the impact of Kejriwal is surely drawing out IITians to be more active in political scene of India.
It was not very long ago when we heard how IIT Kharagpur students went into the celebration mode after Arvind Kejriwal was sworn in as Delhi's Chief Minister. More than 500 IIT KGP students had enrolled as AAP volunteers. They donned party caps and promised to be the part of the change in the country. Many helped the party to design posters and maintain its website.
Now, after less than a month, this jubilation has turned into dismay and dejection. IITians associated with AAP are now becoming restless over the gaffes of the party and its top leaders. IIT-KGP community has even started an Anti-AAP FB page which already has over 24,000 followers across India.
One wonders how quick IITians have been to support and then, denounce one of their own. Was it only a different kind of community sentiment that had won them over to Kejriwal? How quick they have been to dissociate themselves with AAP when it falters in taking its first steps!
In 2006, five IITians gave up excellent job prospects to form a national-level political party called Paritrana. It was covered by all the major newspapers and news channels of India. No one knows about it now. Will AAP and all the high promises it made will also fall flat after a time?
Do you think IITians will engineer new solutions for Indian politics or will they turn their faces and accept the best pay packages they are offered?
Do post your comments here:
This post was contributed by Monika Rai, askiitians expert.
How does this post make you feel?