IIT Delhi Alumni UNIITE to discuss entrepreneurship and start-ups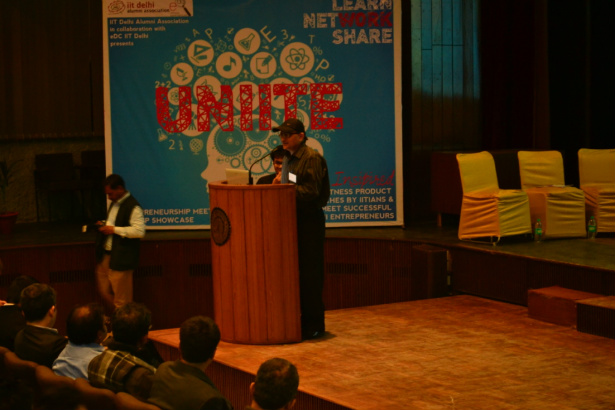 New Delhi: As the first semester at IIT Delhi is about to complete, an entrepreneurial talk series and product showcase event called UNIITE was organized in collaboration with IIT Delhi Alumni Association (IITDAA).
With 1,70,000 inventions being registered in India in the last two years, the entrepreneurship is rapidly becoming the preferred road taken by many IITians.
In such a scenario, interaction between entrepreneurs and IIT Delhi students offered a good opportunity to exchange ideas and discuss finer nuances of launching businesses.
Some of the speakers featured in the event were Mr. Rajul Garg who has inspired and incubated many start-ups and Mr. Prashant Tondon, founder of HealthKart.
The lectures were followed by a Q&A session, Felicitation ceremony and most awaited of all – Product Showcase where 10 startups founded by IIT Delhi students and graduates had an opportunity to display their products.
Start-ups featured included Rikler.com – an online dating platform where you can remain anonymous until you are comfortable enough to reveal your identity to your partner, Zumbl.com – anonymous chat platform where you can talk to people just like you based on culture, interest areas etc., Tripoto – where frequent and experienced travelers can work as your guides and share their travel itineraries.
Other featured startups included Touchtalent where you can display your talent and sell your art piece to over 22 million users from 192 countries, Invoxel which has already collaborated with Microsoft to develop multi-user touch surfaces, and Bloodconnect that organizes blood donation camps in offices and colleges.
This post was written by Aditya Singhal, co-founder of askIITians.& (IIT DELHI Alumni)
How does this post make you feel?