Bansals and IITs Prove Lethal Combination in E-Commerce—Control 85% of Entire E-Tailing Industry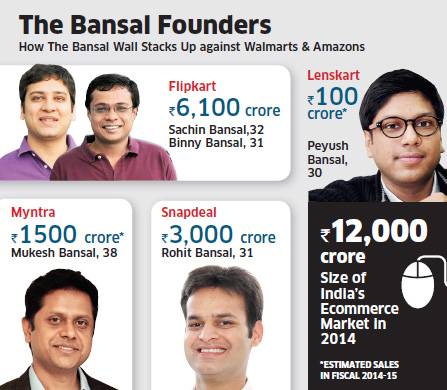 Gone are the days when the term 'Bansal' would draw its reputation mainly from coaching classes in Kota, Rajasthan. The term has gone global in the last decade and now rules the fate of India's e-commerce industry.
Deemed as trailblazers of Indian e-commerce industry today, 5 young Bansals from India have even taken on global e-commerce giants such as Amazon and eBay.
Online marketplaces like Myntra, Snapdeal, Flipkart, and Lenskart have one thing in common—their founders are Bansals. And such is their hold on the business that they account for 10K crores of total 12k crores of e-commerce market.
Sub-sect of Aggarwal community in India, Bansals' are always known for their sharp business skills.
"We (Bansals) have the math, finance and data skills that are extremely important for e-commerce," said Rohit Bansal who with Kunal Bahal founded Snapdeal in 2010.
Bansals are not only great at business skills, but also flaunt degrees from hallowed institutions of India such as IITs and IIMs. As a matter of fact, all five Bansals dominate 80 percent of the e-commerce market.
The biggest contender for all five Bansals is Amazon with a Rs. 4.5 lakh crore market.
Flipkart may prove a challenge for even a global giant Amazon. Flipkart's market sale is Rs. 6,100 crore. After Flipkart, Snapdeal is touted to be the second toughest contender for Amazon.
"My ancestors from my paternal and maternal sides have all been businessmen," said Rohit Bansal.
"It has come full circle with me getting in fashion retail online. No family influence made me think of entrepreneurship. But the startup bug bit me in Silicon Valley," said Mukesh Bansal, CEO at Myntra. He moved to India in 2007 to start Myntra.
Mukesh Bansal is from Haridwar.
"My parents didn't understand while I was starting up. But they came around later. You have to understand that they are products of their generation," said Peyush Bansal whose Lenskart is targeting revenue of Rs 100 crore in next fiscal.
This post was published by Rakesh Singh, The product head at askIITians and an IIT- Delhi and IIM-Kozhikode alumni.
How does this post make you feel?