Why Online Coaching Is Must For NEET 2020?
We often come across a new term these days which is online coaching. As is evident a lot of people feel that how can a virtual face that is on a computer screen help with the important  NEET 2020 exam and how effective can it be. If those of you reading this article also feel the same then there is an absolute need for you to read through this blog that will give you all the insights.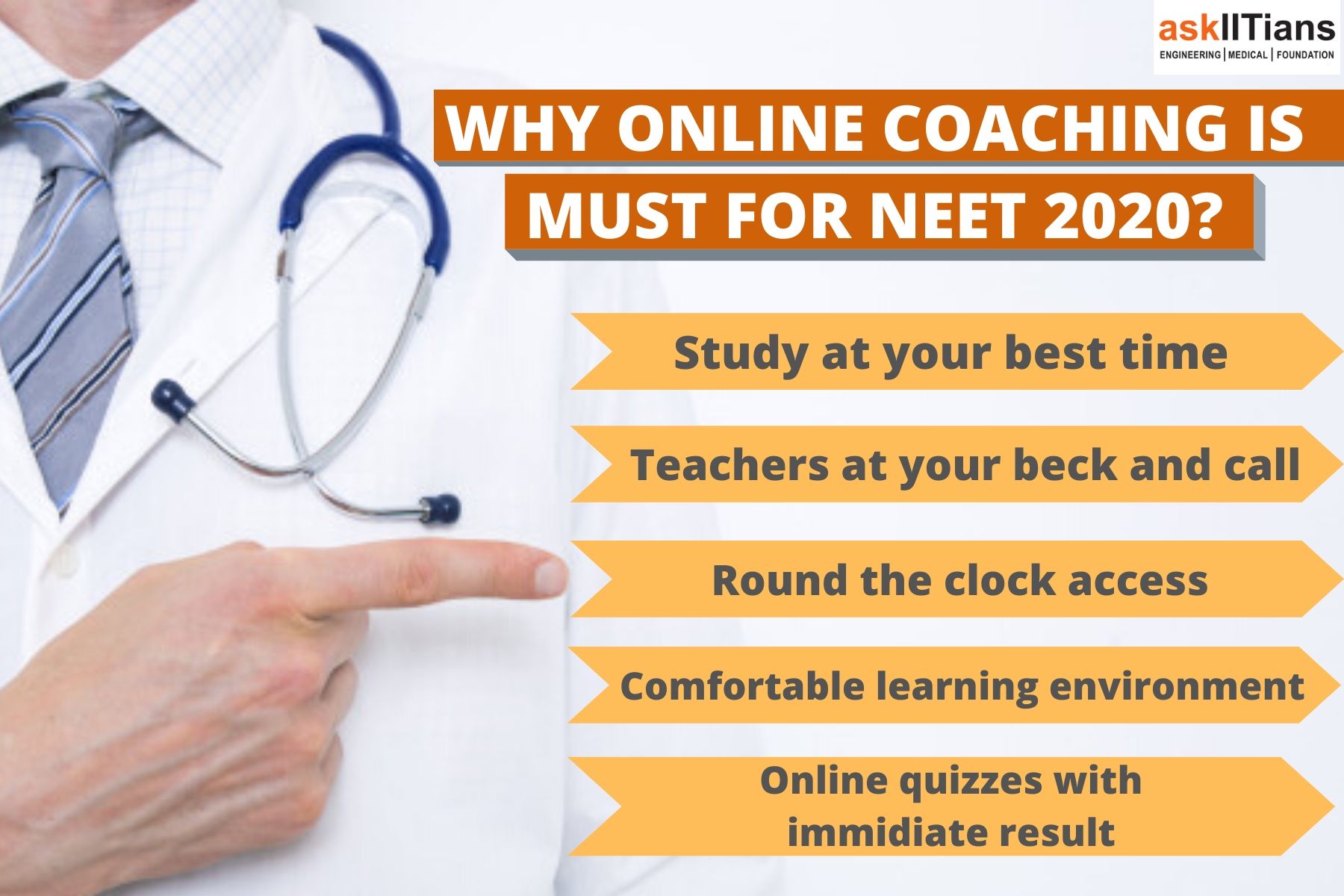 Before we highlight the reasons why online coaching is the best way to get the desired NEET preparation online, let us take a look at some facts and figures. As per sources each year there are almost 30 lac students who appear for the NEET exams and this means that the competition is fierce and competitive with each passing year. We would now like to draw your attention to another fact which is the availability of teachers to help these 30 lac students with essential  NEET exam tips. 
Did you know that the number of teachers ready and qualified to teach such large numbers doesn't even fall in fall in the 5 number category, and this invariably means that for every teacher there are almost 500 plus students who are assigned. If these numbers don't shock and surprise you, we wonder what else will. With the extensive course that needs to be covered for the NEET 2020, these numbers only mean teachers getting overworked and stressed. As fact has it, this results in poor performance in the exams and stress in the minds of the students as well. 
But, fear not for there is a solution to all these problems and issues that you see! We bring to you the world of online NEET classes that provide students with  NEET tips that help make their life easy. But, hang on this is not just it, there are a number of other reasons why online coaching for NEET 2020 is being considered a must. 
Round the clock access to information

: most students preparing for the NEET 2020, often are simultaneously also preparing for the board exams as well. This means that their study patterns are very chaotic. The biggest plus point of

online NEET classes

is that the information is not bound to teachers availability and the timings are flexible. Now, students can study and prepare for the

NEET 2020

as and when it is comfortable for them. 

Teachers at your beck and call

: unlike most colleges and private coaching centers, the teachers assigned to most of these

online NEET classes

are available as per your needs. Plan your study routine as per your convenience and never feel the need to worry about the time. 

Time saved means money saved

: no longer does a student need to travel long distances and spend money to get to private

NEET 2020

coaching classes. With the help of

NEET preparation online

medium students can prepare for 

NEET 2020

from the very comforts of their homes and that too by saving both time and money. 

Made to Practice until your Perfect

: one of the main ideologies followed by most of the

NEET preparation online

platforms is that they are given rigorous training in the form of solving practice NEET papers. The more the students practice sample NEET papers, the more they understand the time management needs along with the comfort of understanding the question type. 

Online and Updated

: with almost all portals going online, there are plenty of chances that new information about the

NEET 2020

is released. With the help of the

NEET preparation online

platforms, students can now get access to all the latest information and other

NEET tips

and

NEET exams tips

that they need to be aware of when preparing for the

NEET 2020

exams.
The bottom line in all this is that when the competition is so fierce and competitive, only the most updated and prepared is fit to beat all the competition and crack the NEET 2020 in the first attempt itself. These are some of the major reasons why NEET preparation online platforms that give students online NEET classes have become such a must in recent years. 
How does this post make you feel?