Student Get Medical Seat despite Scoring Zero in EAMCET-2014—Reservation Shocks Again!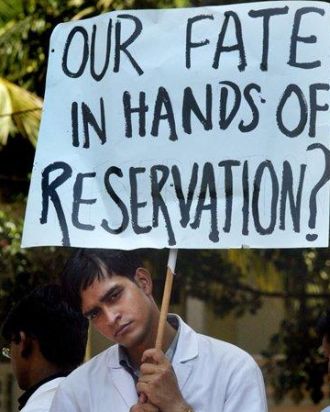 In one of the most shocking incidents of reservation reported from Andhra Pradesh, 22 students who had scored zero in EAMCET this year will finally get admission in engineering and agriculture courses. These 22 students out of 78 who had appeared for the examination either belong to Scheduled Caste (SC) or Scheduled Tribe (ST) communities.
9 out of these 22 students will get direct admission into engineering colleges while the rest 13 will pursue courses other than MBBS.
The officials of the education department said that these 22 students would get seats in engineering colleges despite scoring zero in EAMCET this year as they had scored 40% in qualifying 12th exam.
All these 22 students are likely to get seats in agriculture, veterinary, and horticulture courses despite scoring zero in the medical stream in EAMCET.
EAMCET is conducted every year by the Jawaharlal Nehru Technological University (Hyderabad) for admission into engineering, medical, dental and agriculture courses in government and private colleges in the states.
Results of the examination have been announced last week.
How does this post make you feel?