JEE Mains 2020: Last Minute Preparation Tips
The alarm bell is ringing in your mind and you just know that the D day is almost here. For most students who are sitting for one of the most competitive exams, this is a scenario that is very familiar. Yes, we are talking about the JEE exams which qualify them to seek admission to some of the most reputed engineering colleges. Therefore there is no surprise that these days there are so many JEE online coaching classes that offer online JEE classes to all those students who actively look for JEE main online coaching options.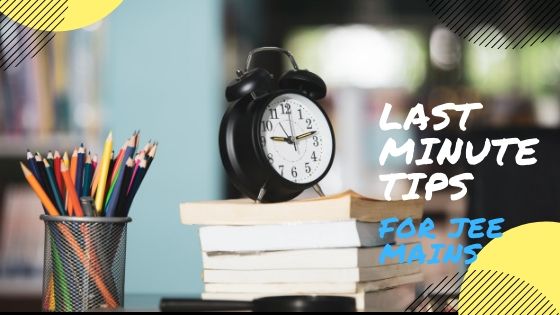 It is true that looking at the rate of competition, students have to be coached and prepared completely so that they know what to expect when preparing for the JEE 2020. One of the ways is to definitely enrol in the JEE main online coaching centers so that they can get all the JEE Preparation that they need. But, for all you students out there who are trying to get into the engineering college of your dreams, here are some of the most effective and helpful JEE tips that can help smoothen your journey. 
Last but not the least preparation tips
Well as the clock is almost about the strike JEE time, here are some neat and helpful tips that can prove to be effective and helpful. So, brace yourself and keep in mind these tips for which you will definitely thank us later. 
Know when to stop
We know that there are students who can be the late risers and start preparing only much later. Cramming and mugging up things without understanding until the last minute before the JEE exam is something that needs to be avoided at all times. For all those of you who are prepared, and think last-minute cramming of a new topic or subject will help, please stop! Avoid cramming anything new on the final days before the exam so as to avoid any last-minute confusion. 
Revise topics that are important
Having gone through tons of mock tests and sample papers, students will have a fair enough idea of what topics are favored and the most important. Make sure you have a good idea of these chapters and topics so that you can score well.
Revisit the done
Take time to go through and revisit all the sample question papers and the mock test answers that you gave while your JEE Preparation and JEE Online sessions. Make sure you keep this JEE tip in mind and go through everything that you have done so far. 
Know your limits
Tiring yourself down and putting in long hours of preparation just a few days prior to the exam will only exhaust you more.  As you prepare for the JEE 2020 it is important to focus on your health and make sure that you get enough time to sleep and rest. A tired mind and body will not help your performance in the final JEE exam. 
Give yourself doses of fuel
As important as it is to revise, study and sleep, it is also true that just like knowledge is the fuel for your mind, you need to ensure that your body gets enough fuel to retain all that knowledge as well. Make sure that you take regular breaks and eat well to make sure you are fit and healthy. 
Along with these key to do pointers, it is important to make sure that you also take care of other aspects such as taking time out for other things as well. Take breaks and come back to your preparations. Also during the last few days before the final JEE 2020 exam make sure you revise and go through all the important formulas and theorems. And, no matter how difficult a task it seems like, make sure that you do not study and do anything extra on the last day before the final exam. 
Hopefully all these JEE tips in mind along with all the JEE Preparation and JEE main online coaching given in the JEE online coaching classes, students will be able to crack the JEE exam with ease. 

How does this post make you feel?