5 mistakes you should avoid while preparing for the SAT exam
Are you a student who is looking for the right medium to get admission to the best colleges and universities, both in India and overseas? It is obvious that all those students who are gearing up for the same have come across the mandatory SAT exam. Now, SAT is originally known as the Scholastic Aptitude Test, and later came to be known as the Scholastic Assessment Test is one that judges and gauges the performance of students based on their logical reasoning.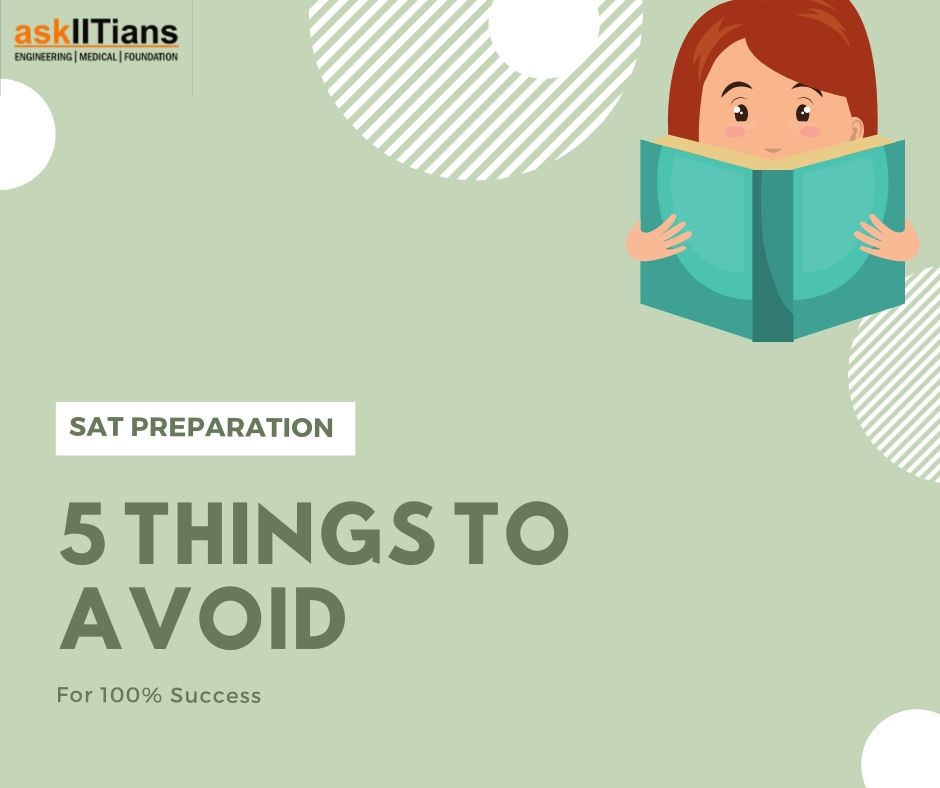 Needless to say, first and foremost this test is compulsory for all those students who are looking to seek admission in universities based in the USA. Having said that, it is also true that this is the reason why students need exceptional  SAT exam coaching that they get through SAT coaching online. The priority of most of these online SAT coaching that offer SAT preparation is to advise them on the mistakes that they need to stay away from while going through with their SAT exams. So before you gear up for online SAT preparation, make sure that you go through a list of the most commonly made mistakes that you need to avoid at all times.
THE NOT TO DO LIST 101
 TIP 1: Time is certainly of the essence here and the one thing students must avoid at all times is the misuse of their time. Like most of the other aptitude tests, the SAT to comes with timing and once the clock starts ticking, students need to battle their nerves and get going. When students take up SAT exam coaching, the first thing that they are taught is keeping up with the time deadline. Always keep a track of the time and don't waste it on things that you are not confident about.
TIP 2: Now, there is a portion that you need to get done with and most students end up spending more time on the comprehension part. This results in them missing out on other important sections that also need to get done. One of the reasons why this happens is when students don't practice enough sample SAT tests when they join online SAT coaching for SAT preparation. Please make sure that you don't repeat the mistake of not solving enough SAT tests to get an idea of time management.
TIP 3: sitting for the SAT test without a clear idea of the format is like entering a war zone without knowing your opponents. Most students who go through SAT coaching online, often forget the importance of browsing through the previous year's sample SAT questionnaires and this results in them getting more nervous at the time of the actual SAT test.
TIP 4: we as students have gotten so used to answering in a detailed pattern and this is almost references out of context. But, doing so in your SAT test is something that is the biggest mistake that you need to avoid. Make sure that even when you practice sample SAT papers in your SAT exam coaching, you stick to the references provided in the paper itself. Don't mention anything extra or excess.
TIP 5: the biggest mistake that most students commit while giving their SAT test is to undermine the importance and the value of the multiple-choice question section. It is a known fact that the MCQ section is easy to handle because of the given option of choices, however, for that as well you need to have the basic knowledge as well. Most students end up by making silly mistakes and lose marks in a section that is otherwise very easy to score in.
When you gear up to enroll in SAT coaching online to gather the correct online SAT coaching, make sure that you keep in mind this list of 'not to do' and then start your online SAT preparation.
All the best!
How does this post make you feel?