IIT-Mardras Professor Ravindra Gettu Honored by Karumuttu T. Kannan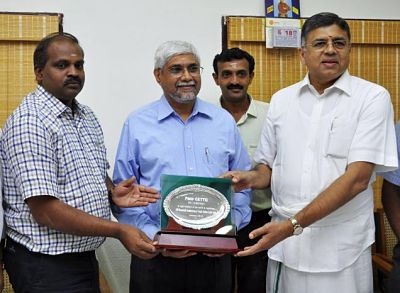 IIT-Madras professor Ravindra Gettu (Civil Engineering) has been recently awarded for his wholehearted contribution for the restoration of the Meenakshi Sundareswarar Temple's tank. The honor was done by Karumuttu T. Kannan, the 'Thakkar' of the Meenakshi Temple, and P. Jayaraman, Joint Commissioner of Hindu Religious and Charitable Endowments (HR & CE) Department and Executive Officer of the temple.
Chief Minister directed the authority to take effective measures to restore the tank after a study was out in 2011.
"The slabs were damaged and any water that the tank could store would just percolate into the ground or drain away through cracks and leaks on the side walls of the tank. Clay from the Keelamathur Tank was selected after testing since it effectively held up against water percolation when water pressure increased," Dr. Gettu explained.
He also went on to say that the use of clay proved a very effective alternative in restoring the tank as clay was locally procured and eco-friendly.
"With an effective rainwater harvesting system already in place in the temple for many years now, all the water collected in the temple drain into the tank. A new wall was also built to prevent leakage of water from the sides," said Mr. Kannan.
This post was published by Nishant Sinha, co-founder of askIITians.
How does this post make you feel?