Exam Study Tips: The Topper's Guide to Success
At askIITians, almost all the faculty members, guides and experts have first-hand experience of cracking some of the most reputed entrance exams of India (especially IIT JEE). They have also been in the coaching or online coaching industry for ages. Their Engineering instincts complement their understanding of students' psychology and best methods of exam preparation. So, if they something about success in board exams as well as competitive exams, you can assume it to be technically perfect:
Characteristics of Toppers
Over the years, we have noticed that all the toppers in board exams across India and major competitive entrance exams like IIT JEE, NEET and CAT share the following personality traits: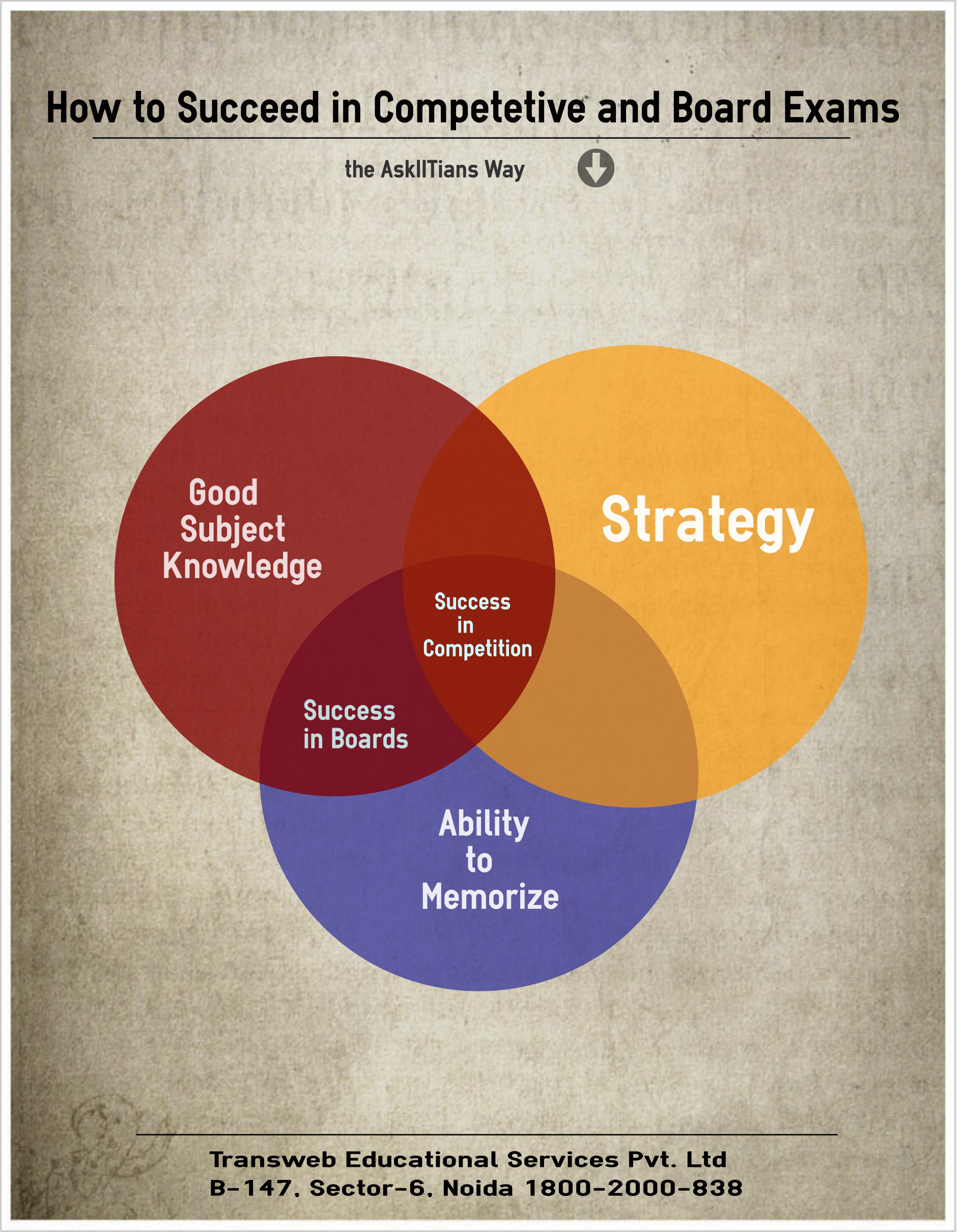 Well-rounded Knowledge of Subject: To master the concepts, theory and problem solving in various subjects, you will have to start from scratch. We will cover in detail about the right way to make notes and how to revise them later in the article.
Master of Strategy: Scores in Class XII board exams play a crucial role in JEE exams and other engineering and medical entrance exams as well. In some of the cases, Class XII marks form the basis of eligibility for the candidates to sit in the other exam, and in other cases, the merit list gives a weightage to Class XII marks. In both the cases, you can see that the syllabus you have to cover is quite vast. Competition is quite high too as lakhs of students compete for few thousand seats in good engineering and medical colleges of India.
In such a scenario, it very important to peg the exam strategies that work for you and can help you score more. Here is what an IIT Kanpur student says about exam preparation strategy.
Ability to Memorize Things and Recall them too: While there are some people who are born with a photographic memory and can remember anything after seeing it, reading it or even hearing about it just once, most of us have to train our minds to be able to remember what we learn.
It is not at all difficult. Salesmen, leaders and celebrities do it all the time. They will meet you once and will remember all about you even decades later.
Here are some interesting tricks to remember Periodic Table in Inorganic Chemistry.
Now let's get back to 'Good Subject Knowledge'. Subject Knowledge can only be gained by studying judiciously. Here is the sure-shot method of making notes that can help you achieve this important goal: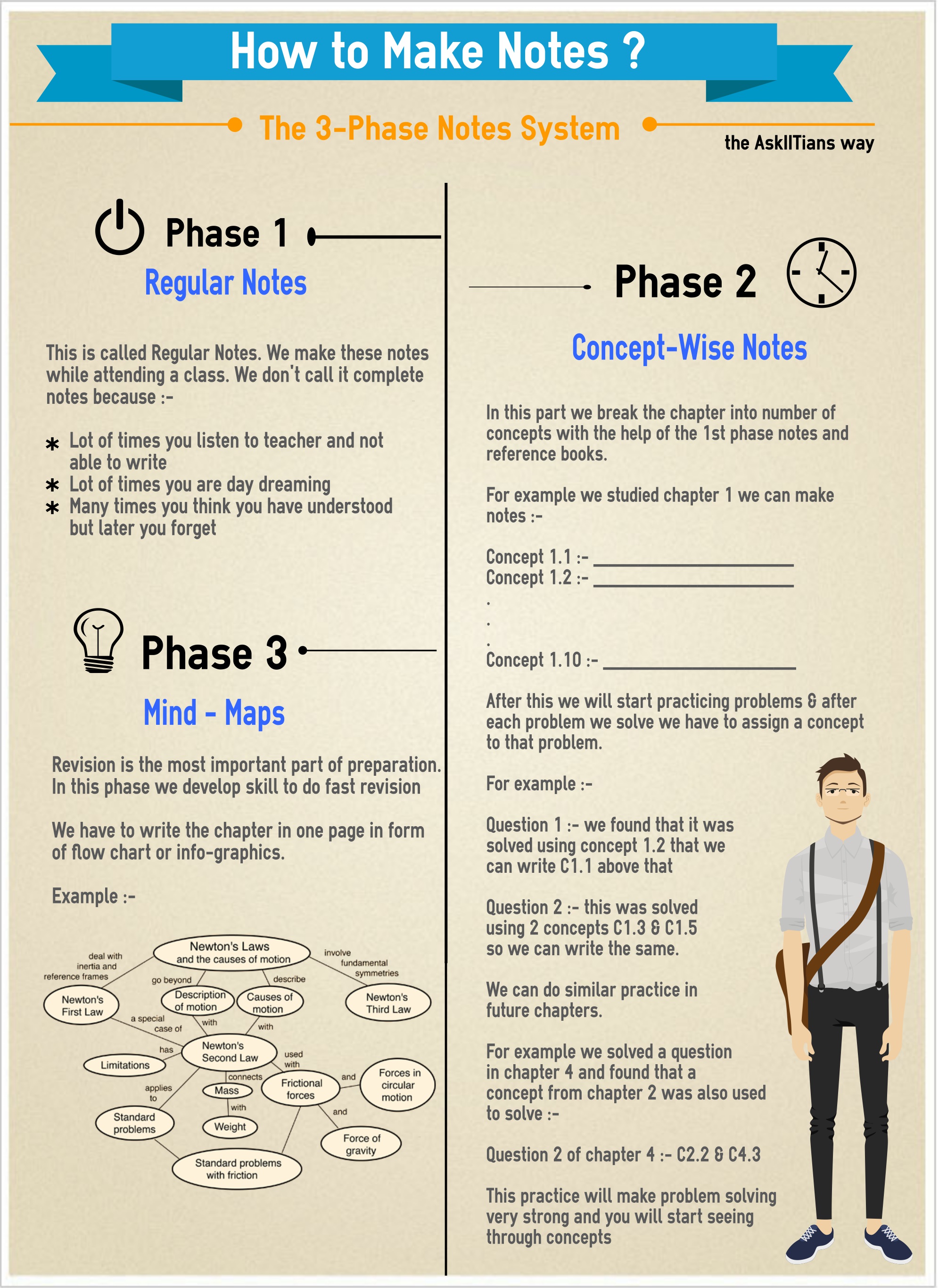 Don't forget to put down date on top of the page for each of your notes – whether they are regular class notes, concept-wise notes or mind-maps. Revision notes must also have at least 1 or 2 problems related to each concept or topic.
Follow the D-W-M-Y method to revise them. It means that if you study a topic today, then revise it after a day (tomorrow), then after a week, then after a month, and finally, after a year. Constant revisions will help the concepts stick to your memory for a longer time period.
It means that if you study a topic Electromagnetism on December 8, 2014, you should revise it on December 9, 2014; December 18, 2014; January 8, 2015; and finally on December 8, 2015.
This method will help you ensure that you do not miss on any topics for your revision. On a particular day, just see all the notes you have prepared a day earlier, a week earlier, a month earlier and a year earlier.
Let me share a secret with you. Most of the askIITians experts know some very interesting mnemonics (including naught ones!) that can make studies seem fun for you. Poke them to reveal their mysterious study mantras to you by filling up the form here:

How does this post make you feel?