25% Marks in SAs Must for CBSE Students in Class IX and Class X for Promotion to Next Class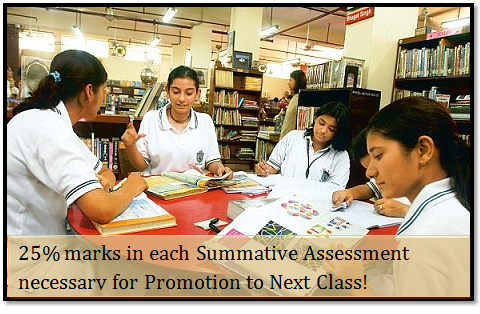 New Delhi: Last year, the Central Board of Secondary Education (CBSE) had announced that students of Class IX and Class X will have to score at least 25% marks in Summative Assessments (SAs) to be eligible for promotion to next class. These guidelines will come into effect from this year. It means that students who will be facing SAs next month will have to score minimum specified marks to get promoted.
As a relief to students, this year, the rule will only be imposed on Class IX students and not on students of Class X. The rule will be applicable for students who will appear for Class X board exams in 2015 though.
Till now, the student's mark sheet contained cumulative scores for four Formative Assessments (FAs) or two Summative Assessments (SAs) for each subject. Each FA carried a weightage of 10% while each SA carried a weightage of 30%.
The revised guidelines specify that students have to be mandatorily present for both the SAs and score at least 15 out of 60 marks in each test.
Students might be exempted from appearing in one of the SAs, if a student is participating in national-level or international-level sports competition or event in the same month. To avail this facility, students will have to take prior approval from the Board. In such cases, the Board will indicate SA1 marks of the candidate as his/her SA2 marks too.
For unavoidable situations like illness, candidate has to re-take SAs within a given time-period.
This post was published by Alok kumar Singh, Askiitians
How does this post make you feel?