Today is 10th Anniversary of Whistleblower IITian Satyendra Dubey!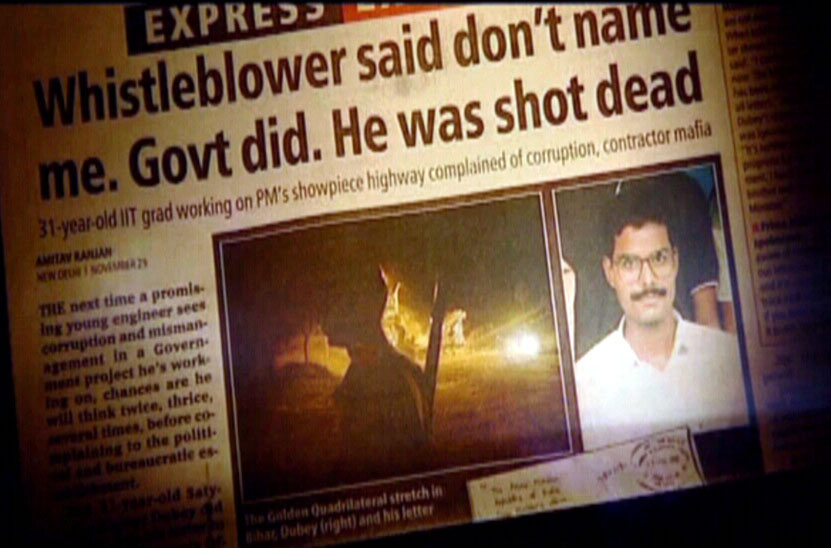 New Delhi: Satyendra Dubey was all set to rise when he stepped up from his small village Sahpur in Bihar to do B.Tech in Civil Engineering from IIT Kanpur and M.Tech from IIT BHU. He chose to overstep offers from abroad and serve his country, and his state.
He was employed by the National Highway Authority of India (NHAI) as Assistant Project Manager in July 2002. On November 27, 2003, he was assassinated for blowing the whistle to expose corruption and criminal nexus that had its roots firmly clutching his department.
Satyendra Dubey embodied all the right principles. He would have been scared when he left his home at 15 for a better education and on his first day at the IIT where he stepped into an arena where brightest minds are always at work for a better future – future of students, of industries, of India, and of the world.
He would have been scared when he wrote the letter to the Prime Minister Atal Bihari Vajpayee to inform him about the road mafia and requested him to keep his identity confidential. But he could not turn his head away.
At 30, he became a living legend and perhaps the first whistleblower in India to receive such a raging media coverage and public attention. It is because of him the Whistleblower Act of India might become a reality soon.
We all, as AskIITians, salute you Satyendra for being who you were – a real hero.
This post was written by Nishant Sinha, co-founder of askIITians.
How does this post make you feel?