Time Out Ms. Smriti Irani, Now Hear Our Say!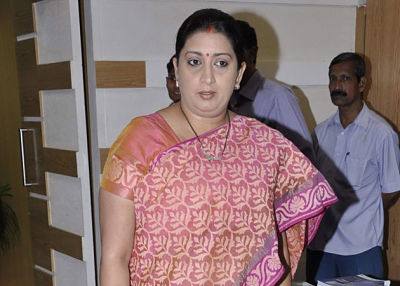 It's no more a news that India's new HRD minister approached the finance minister asking for grants to create eight new IITs across the nation. While the honourable minister was caught in an unfortunate controversy over her educational qualifications, Smriti Irani had an excellent opportunity to show that she understands the country's most urgent HRD needs, and Narendra Modi's aspirations for inclusive growth through poverty eradication. She showcased this by announcing her intent to create educational infrastructure and drastically raise the enrolment ratio in the coming 100 days. As an alternative, she chose to push for eight more IITs, despite being informed by the concerned departments about the problems with the existing IITs.
We have the largest young population in the world which can be turned into a demographic dividend by appropriate measures in schooling, training and skill enlargement, thus also benefiting the country immensely. Hence, our HRD ministry becomes the most important portfolio today. In case they fail to educate and train the hitherto deprived children, same demographics can turn into a curse going forward with unemployed youth turning into criminals of sorts, placing enhanced burden on other ministries in the upcoming times. The nation's eyes are set on all the ministers during these 100 days, and everyone expects them to fall in sync with each other and with Modi's vision of India.
Since many IIT graduates leave the country, there is enormous brain- drain happening from these top- notch institutions. So, is it then wise to pour the taxpayers' money into new IITs at the cost of millions across the nation, who are deprived of even basic education facilities? Well, even today 80% of Indian population doesn't even know what an IIT is. Thus, in 2019, after 5 years, when Modi faces the electorate again, there can he boast of creation of eight more IITs; otherwise the creation of extensive educational infrastructure across the country, rendering the children of millions of poor and illiterate as 'employable', therefore raising their living standards? Please remember, job creation and suitable manpower creation, are two wheels of the same chariot that will ride today's poor towards tomorrow's prosperity.
India sure needs superior engineers, doctors, scientists, teachers, managers, and so on. But then again, focusing on one at the cost of others indicates a misplaced emphasis. Now, how about focusing on providing good primary and secondary, and even college education to the hitherto deprived rural masses on war footing, without wasting the new academic year starting soon? (June — what an opportune timing for the new HRD minister!) Since maximum efforts for primary education are under way, the higher education can be provided across disciplines in phases after assessing the relative needs. Well, then within 100 days, following things can be done urgently if the HRD minister puts in the same dedicated hard work that she put in before the elections-
Repair the broken school buildings across the country,
Create 'schools on wheels', and take these mobile schools to remote villages where new school- building will take some time and engage good teachers asap,
lInstall computers with the help of ITC e- Choupal and keep videos, MOOC and e-learning courses ready to supplement or fill in for teachers. And for all this, Shramdaan Shibirs (the community service camps), can be organised on the lines of Vinoba Bhave ji's or Baba Amte ji's attempts, wherein Modi can use all his charisma to appeal to his countrymen and women to come and take a few days to go stay in camps and help repair or maintain schools in villages.
And believe me, thousands of men and women will come forward for this work. These volunteers will include educated people like engineers, doctors, lawyers, managers, teachers, officers and also accountants, clerks and workers. Different organisations and companies may be urged to give their select staff a paid leave to attend these Shramdaan Shibirs. Few may come for socialisation and fun, and some for a good cause; but all will get involved in Modi's development process nationwide and toil together along. If successful, this model can be replicated for other sectors such as healthcare. And then come 2019, these volunteers can become Modi's armoury.
But to think of, where will the money come from? Now, Shramdaan Shibirs don't cost much because the volunteers are obviously not paid. They are only only directed and their stay and food is taken care of. The existing misdirected and costly subsidies can be removed to provide for the expenses of repairing or maintaining and later constructing new school buildings and creating mobile schools. Plus, tax- free bonds may be issued and people can even donate. Well, a weak government needs the crutches of subsidies and freebies, but not a powerful one such as Modi's government. Nor does Modi wishes to keep the underprivileged where they are, wholly dependent on government doles, just to capture their votes. Now even the beneficiaries of subsidies have started understanding the game- plan and are now demanding jobs instead of perks. They have self- respect and need a dignified life. Modi certainly understands it and has the mandate to fearlessly replace subsidies by education facilities.
If the HRD minister is very keen on doing something for higher education, Ms. Irani would do well to put an end to the notoriously scary ragging in IITs, remove the corrupt regulators in the education sector, free the private education sector from counter- productive regulations, reduce the caste- based reservations of seats, and so on. In the meantime, if industries adopt all villages in India, then education will spread really quicker. Management institutes can organise such Shramdaan Shibirs, instil philanthropy, and cater to the need of the hour by joining hands with the government, if HRD ministry takes up such laudable initiatives towards nation- building at the bottom of the pyramid.
Smriti Irani lists IITs, IIMs in Every State! Where are We Heading To?
As private universities beat IITs in quantity of research papers, what say Ms.Irani?
HRD Minister Plans Retreat with IIT Directors in Meeting 
Why is Smriti Irani's Proposal to Set up New IITs in The country a Bane in Disguise?
"Do you agree with Smriti Irani's decision to set up even more new IITs"- Readers and their Interesting Opinions in our First Poll Results!
Letter to Smriti Irani: Madam, some open ideas for you!
How does this post make you feel?