Study the Smart Way, Not the Hard Way – Tips by askIITians
Do you often feel your study habits are not giving you desired results? Maybe you are studying 10 hours a day and yet are unable to remember concepts well or maybe you are finding it tough to manage how to study every subject equally and finish your syllabus on time. Relax! There's nothing wrong with you. You just need to convert your study habits into smart study habits for effective learning.  
This article includes the top 8 smart study tips from AskIITians experts. These tips will help you learn your course material effectively and make it easier for you to retain concepts, whether you are preparing for CBSE exams or entrance tests like JEE and NEET.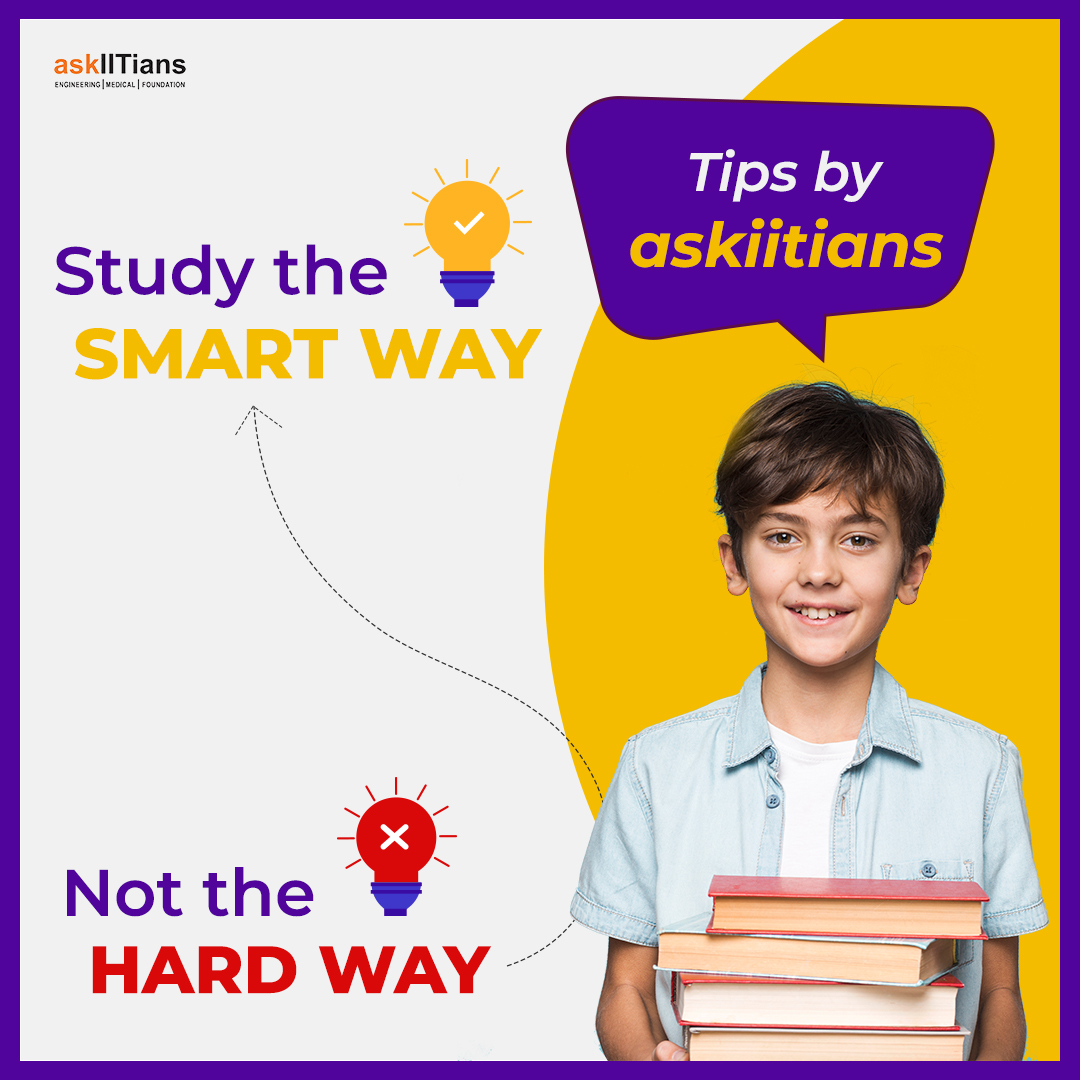 If you are studying randomly and have nothing mapped out about how many days you should take to learn which topic, when you need to take a practice test et cetera you will not be able to complete your syllabus on time. So make a plan! At the beginning of every month, mark your calendar by assigning different learning tasks. 
 
Then, create a daily study schedule. Assign a few hours to a subject in such a way that you can cover at least 2-3 subjects. Do not study only one subject in a day as it will become quite boring for you. Also, assign time for activities apart from studies like breakfast, lunch, dinner, exercise, social gatherings and so on.
2. Multitasking is a Myth!
Watching TV and practicing Math problems. Continuously checking your phone and learning Physics concepts. Talking to your mom in the kitchen and having a book in your hand. Multitasking while learning will never make you smart. 
If you want to retain what you study, you need to focus on one thing at a time. Here are a few tips on how you stay focused while learning: 
 

Turn off all notifications of your phone 

Avoid checking your phone after every ten minutes

Block websites on your computer until you are studying

Try using Freedom or Stay Focused while studying

Create a dedicated learning environment

Keep all your study materials with you
Find the difference between these two:
The first to-do list seems a little vague as you have not written what exactly you need to study in Physics. While the second one seems on-point. You have a clear goal for the day. You do not have to find what to study in Physics. 
If you want to study smarter. Set realistic goals for yourself. 
Asif, who provides askIITians online tutoring in Kuwait, says, 'Äúanother way to study effectively is to divide your goals into small actionable steps. For instance, studying the whole chapter in one day could be impossible for many. So divide that chapter into a few parts and study one part in a day. This way you will be able to study a chapter without getting overwhelmed or anxious.'ÄĚ
4. Learn From Various Sources
Textbooks. Revision Notes. Recorded Video Lectures. Flashcards. Live Sessions. Mindmaps. Flashcards. Class Notes. You can study one topic from these many different sources. So why stick to just your textbooks? Study a topic from various sources so that you can retain it well. It does not mean you have to do it every time you study a topic. But, you can choose a different source while revising the topic at different times.
5. Keep Yourself Organised
Want to revise all the concepts quickly? Watch some online video lectures for IIT JEE from a recognised IIT JEE institute. Watching a video could be more engaging and interesting at this time than understanding a concept from the textbooks. Moreover, it becomes easy to understand a concept through video lessons. 
Also, you will be able to revise multiple concepts in just a few hours. At askIITians, you can find step by step video tutorials of all the chapters of JEE Main. Our experts have explained every concept in an easy language so that you can prepare for JEE Main in a short time without any trouble. By keeping a study planner, you are already organising your time. But that's not all. You also need to organise your stuff and your study space to ensure maximum productivity while studying.
Start with organising your class assignments and study notes. Use binders for different subjects. Make sure your notes are organised chapter-wise. If you are using digital notes, make sure you have organised your desktop or laptop. Create folders for every subject and create further folders for assignments and chapter-wise CBSE online study material. 
Organise your study space by clearing out your desk. Keep all pens, pencils and other stationery items in one place. Place your books in the study rack properly so that you can find one easily while you study.
Do you know that humans have a preferably shorter attention span? Many psychologists say that an average student can concentrate in class for not more than 10-18 minutes. So how can you expect yourself to be studying for 2-3 hours straight? 
This is why, in all our online tutoring services, we suggest students take a 5-10 minute break after every 45 minutes study session. This will keep your mind fresh for longer hours and you will be able to study effectively. Try this for one week and see how much difference it would make in your learning.
You need to test yourself to ensure that you remember the concepts correctly. Solve sample papers, previous year papers or take quizzes. Solve NCERT exercises and NCERT Exemplar books. Once you are done with that, start solving reference books. If you are taking any CBSE online courses at askIITians, you will be given a complete test series that comprises chapter tests, topic-wise tests, full tests, unit tests and mock papers. The more tests you will give the more you will be able to overcome your exam fears.
Completing a tough Physics chapter calls for a celebration. After all, it is the small things that matter in life. So why not reward yourself for every little achievement? Whether you obtained a good score on a test or you can complete one exercise without any help. Celebrate your little successes to keep yourself motivated. Here are a few things you can use to reward yourself:
A healthy snack 

A long walk in the park 

Playing your favourite musical instrument 

Listening to your favourite playlist 

Watching an episode on Netflix 

Checking your social media handles 

Talking to a friend 
Even the simplest of rewards will bring you the most joy after a successful study session. 
So are you ready to study the smart way? Start adapting these study habits one by one and change your learning style completely. We guarantee that you will also experience a positive change in your results. 
How does this post make you feel?