NIT Delhi: Why to Join It and Why to Avoid It?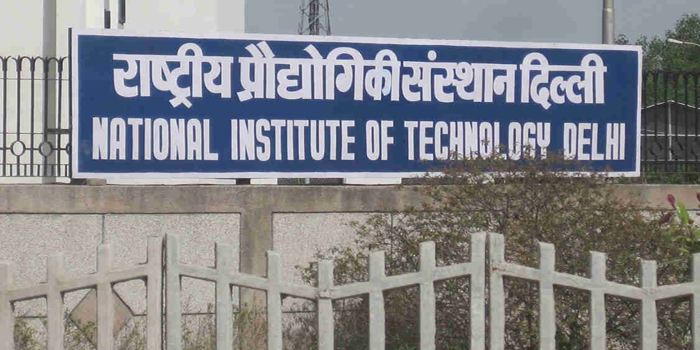 NIT Delhi has started its academic session in 2010 with three undergraduate B. Tech degree programmes in Computer Science and Engineering (CSE), Electronics and Communication Engineering and Electrical and Electronics Engineering. The academic activities of NIT Delhi were initiated at NIT Warangal in year 2010 which later moved to a temporary campus at Dwarka, in New Delhi in June 2012 and now currently running at IAMR Campus, Narela (February 2014)..
Placements: The Training and Placement Cell of NIT Delhi centrally handles all aspects of campus placements for the graduating students of all the Departments. The T & P Cell is well equipped with excellent infrastructure to support each and every stage of the placement procedure. T & P staff members assist in arranging Pre- Placement Talks, Group Discussions, Written Tests and Interviews etc. as per the requirements of the different recruiting companies.
Top recruiters for NIT Delhi are- (GBS), IBM (GBS), L&T Construction, Balmer Lawrie, Maz Digital, Ramco, Sapient Nitro, Hughes Systique, PAYTM- ONE 97, Amazon, Trident, World Quant , World Quant , Mu Sigma, NVIZION, Akash Institute, ETAASCON, Reliance Communication
Departments
Currently, there are following four departments functioning in the institute:-
Computer Science & Engineering
Electrical & Electronics Engineering
Electronics & Communication Engineering
Science & Humanities
Research and Development: The NIT Delhi has laid great emphasis on theoretical and experimental research. Thrust areas of research include- VLSI and Embedded Systems, Mathematical Modelling of fluid Dynamics, Advanced Magnetohydrodynamics, etc.
Faculty: There are about 25 faculty members at NIT Delhi. The faculty-student ratio is 1:31.2
FEE STRUCTURE:
Institute Fee
a)  Tuition Fee- ₹ 17, 500/- per semester (1st to 8th Semester)
b)  One Time Admission Fees- as follows
S. No.
Particulars
Amount (Rs)
i.
Admission Fee
250 /-
ii.
Identity Card
100 /-
iii.
Institute Development Contribution
8, 000/-
iv.
Security Deposit
5, 000/-
Total (Rs)
13, 350/-
c)   Annual Fee- as follows
S. No.
Particulars
Amount (Rs)
i.
Medical Fee
1, 000/-
ii.
Student Club
300 /-
iii.
Games Fee
300 /-
iv.
Student Magazine & Library fund
1, 200/-
v.
Student Aid fund / Welfare fund
240 /-
vi.
Maintenance of computer
1, 400/-
4, 440/-
Note- The applicable fee should be deposited in single Demand Draft and to be issued in favour of the 'Director NIT Delhi', payable at Delhi.
d) Hostel Charges

Hostel Security (Refundable) –  ₹10, 000/-
Mess Security (Refundable) – ₹10, 000/-
Admission Fee (One Time) – ₹ 500/-
Hostel charges per semester- as follows
S. No.
Particulars
Amount (Rs)
i.
Sanitation
500 /-
ii.
Common Room & Cultural Fund
1, 000/-
iii.
Room Rent
2,500/-
iv.
Electricity & Water Charges
5, 000/-
v.
Maintenance charges
5,00/-
vi.
Mess Establishment
500 /-
Total (Rs)
10, 000/-
Facilities:
Library: It is housed on the first floor of the building with beautiful surroundings and is in centre of the campus which is easily accessible from all departments and hostels. The library is growing rapidly with exponential increase in number and variety of collection to serve the information needs of the readers in the field of Social Sciences & Humanities and Engineering & Physical Sciences.
Computer Center: The Computer Centre maintains and manages WiFi facility through rack mounted blade servers in the campus. They have High speed (single mode) fiber backbone which is managed by Layer 4 Switches providing 250 Mbps (1:1) bandwidth Speed. Also, these networking facilities are also extended to Hostel and Residential areas.
Hostel : NIT Delhi has acquired hostel accommodation at the following two locations

INT Dwarka Campus- Sector 9 Dwarka New Delhi
Satyawadi Raja Harish Chandra Hospital Campus- Narela New Delhi
How does this post make you feel?