Meme on CBSE Topper 2014 Sarthak Aggarwal goes viral on Facebook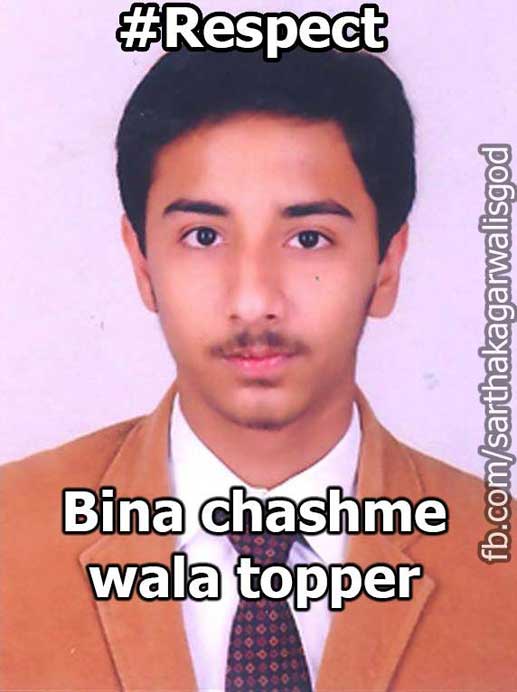 CBSE topper 2014 Sarthak Aggarwal was in news last week for scoring 99.6% in Class 12 CBSE Boards – the highest marks that have ever been achieved by a student in CBSE Class 12th board exams. But his 15 minutes of fame have not ended yet.
He was in news just last week for scoring 99.6% — the highest ever marks in class 12 CBSE boards. But Sarthak Agarwal's fame has not died down just yet. He has now inspired various memes on the internet.
A Facebook page titled – Sarthak Agarwal memes – has gone viral. It has got 18,000 likes within 24 hours of its creations.
One of the most popular meme is one that how the percentage of the CBSE topper could actually be the combined passing marks of three individuals. Another one shows a parent asking their children to become Sarthak when they grow up.
There are crossover memes too, with Rajnikanth and Alok Nath.
The page was created by a student of Amity University in Noida – Aditya Vijayvargiya. He says that he created it for fun but is worried that some people take it as an insult and are even 'threatening' him. He clarifies that he genuinely would like to congratulate Sarthak on his achievements.
DPS student Sarthak's stellar academic achievements have made him a popular face on Internet. His face has 140,000 likes, about 11,000 shares and as many as 25,000 comments.
Some of the funny comments included:
Did you really have to publish it in the newspaper? We have parents to answer.
This person is imaginary. He has no relation with the reality.
Even my phone battery does not have that much charge…
Congratulations Sarthak! But today, my parents again scolded me…eight years after my Class 12 results were  declared.
You should have used Apsara Pencil. You would have got extra marks for good handwriting and would not have lost that 0.4%.
There are as many as three Facebook pages dedicated to Sarthak Aggarwal memes and jokes. Yet, the truth remains that Internet celebrity or not, bright Sarthak does deserve all the fame and good wishes after such hard work.
Find some of them here !
Sarthak, 12th Class topper with 99.6% marks, shares his success secrets with all!
How does this post make you feel?