My exceptional way of bagging rank 14 in JEE- Navin Kabra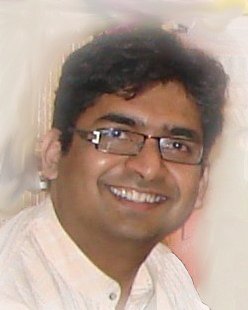 So planning to take the JEE? I am sure that most of you would be tensed and perplexed! Which classes should I join, which books should I refer, how many hours should I spend…… these are some of the questions doing rounds in the minds of many of you. I don't really know whether I would be able to bring an end to some of your worries but, since I managed to get a rank of 14 in JEE, I wish to share my experience with you.
I got AIR 14 in JEE (1988) in a very quirky way! I am not advocating that this is the way you should prepare but yes, these are some of the guidelines you may follow. I will first describe the way I studied including some of the conventional things I did not do.
So we first start with some typical acts of JEE takers which, at least I did not follow!
No classes: I did not join any kind of coaching for the JEE as being in Nashik I could not find one! It might sound strange but that's the truth! I joined coaching classes for the preparation of boards in 11th and 12th and may be that helped me out in JEE too. I give the credit of my success to Gadgil and Vanzari Sir.
Never skipped College: I attended all the lectures and the labs in classes 11th/12th. I didn't believe that there was any need of skipping school for the preparation of JEE.
No other exams: Since the very beginning I was quite focused and so I did not sit for any other exam except the JEE and the 12th boards.
Adequate sleep: Friends, it's a myth that the more you study, better it is. I used to sleep for 8 hours every day and yet I made it through JEE!
Did not overlook my 12th standard: I prepared well for my boards as JEE was my second preference. I was lucky enough to grab the second position in Pune board merit list.
Did not follow many conventional books: Can you believe it that I got AIR 14 and never referred any book out of Feynman, Irodov or Resnick and Haliday. I had my personal copies of Resnick and Halliday but did not refer more than a page of it.
No JEE preparation in earlier classes: Today, kids can be seen joining classes for the JEE preparation in their 5th or 6th standards. I had not even heard of JEE before my 10th and so there was no question of preparation. I began it in 11th.
No mock tests and group studies: Yes, I did not take any kind of practice tests and never preferred any group studies. In fact, I didn't even know if anybody else in my city was taking the JEE!  
No epic study sessions: I usually studied for 3 hours every day. In the last month, of course I used to be with my books for around 8 to 12 hours a day!
The path I followed…
Agrawal Correspondence Course: I just enrolled in the correspondence course at Agrawal classes of Bombay. I don't think it exists now! I used to get one packet of study material, and practice questions every month. After going through the material, I would solve all the practice questions. There was also an option of mock tests etc. but I never took pains to do any.
Board exams vs JEE: I knew I had to manage things well. In 11th, I just concentrated on college studies. I attended all classes, labs and coaching. I started concentrating on the JEE around the end of 11th. Then in 12th, I concentrated on JEE preparation. About 2-3 months before the 12th board exams, I stopped JEE studies entirely, switched to the boards preparation. After the board exams, I had about 1 month of studying for the JEE.
Regular studies: I knew it was important to be regular in your studies. From the second half of 11th, I studied for 3 hours daily. This included JEE studies as well as college studies. I never missed any TV show. I would start at 10pm after dinner and spending some time with family and continue till 1 am. At times I would continue till 2 in case the problem set demanded more time. Then, I would get up at 9-9:30 in the morning and go for the lectures starting at 10:30.
Did not sacrifice anything: I would attend the college during day, go for walk in the evening and spend some time with family and friends. Then I would watch TV until 10pm.
 
Was it really a stroke of luck?                                        
As I have told you that I did not take any kind of mock tests so I was not really sure how I would perform in JEE. Moreover till my time, only one fellow had been able to crack the JEE with a rank of 200. But since, that guy had been a state topper so I never expected that I could compete with him and expect to clear the JEE! Hence, I was blown away when I realized that I had cracked JEE and that too with a rank of 14! The top 100 rankers were invited by the Agrawal classes for a 3 day commemorative trip to Bombay. Within no time of meeting others I started realizing that my preparation included none of the things that others had done to crack the JEE. This feeling was getting even more manifested in the first few days at IIT-Bombay. Majority of my mates were from Ruparel College and I could everywhere hear talks of Feynman's lectures in physics, problems from Irodov and like things. My first few months were really difficult and in fact I even started doubting my caliber of reaching here!
It was only after the first mid-semester exams when I surpassed most of my mates that I heaved a sigh of relief. And yes, my success was not some lucky break but I had some spark!
 
So, what exactly was the secret of my success?
Sorry, but I don't really know how I made it! But yes, during my tenure in IIT, I envisioned that my basics in Mathematics and Physics were very clear (though not in Chemistry). And maybe it was due to my reading of various books between the ages of 5 and 15 that helped me out in building solid fundamentals.
When I was 6, my aunt gifted me two books of brain teasers which contained very knotty problems. I would just go through the questions and then read their answers. I am sure this helped in improving my problem solving skills, although I could not solve many of its problems. In fact, after around 3-4 years, I again returned to those books and read them again.
At the age of nine, my teacher in school gave me a book by Shakuntala Devi, Figuring the Joy of Numbers. This was the point when I developed passion for Maths. I read some books on Physics and Maths at the age of 11by Ya. Perelman: Algebra can be fun and Physics for Fun and Entertainment. I continued going through these books for the next 3-4 years.
Friends, these books were not any kind of study books and were not suggested by anyone. I just read then for fun. My parents would often scold me for not studying and killing away my time with these books. Who knew that leisure act would actually help in making way through JEE!
 
Other key points…
I had a buddy in school named Suyog Moogi, who had shifted to Nashik from Bombay. His brother was an IITian and it was he who advised me to sit for the JEE. Though he scored the same as me but he did not take the JEE.
As I have mentioned above that I hated Chemistry and this hatred continued even in IIT. After my Chemistry test in the end of my first year, I actually burned my Chemistry books into flames in the celebration of the fact that I would not have to study it ever in my life again. Guys, especially who hate Chemistry; this did not mean that I did not study Chemistry. In fact, I had to spend more time on it so as to improve the basics.
Now, I actually give my copies of the 4 Perelman books to school kids of my family but unfortunately they don't have any interest in reading. I wish somebody gets stimulated by them the way I was!
Once I finished up with 12th boards, I decided that I would never give much importance to studies or my career. I rather wanted to spend more time on things other than work. This is the reason why my career graph has not been extraordinary. Having obtained such a remarkable rank in JEE I should have gone to a top-5 university in the US but I went to top 10. Moreover, I could have grown into CXO or fellow in a large concern, or could have opted for a money-spinning job but am rather striving with a start-up. But I have no qualms and am in fact proud of many other things that I have attained in life.
Last but not the least I would just like to tell all of you that not cracking the JEE does not mean that you lack something or are inferior in any way to the ones who have been successful. Life is a race where you are bound to encounter success as well as failure. I have seen many of my friends who could not make it to the elite institutions, struggled to clear the exams and yet have been quite successful in their lives. In fact they run various companies in which they appoint IITians and at times even throw them out for their sluggish behavior. Guys, don't ever undervalue anyone on the basis of hi/her academic success. Despite being quite average in academics one can be highly successful in life!
About author: Navin Kabra is CTO and Co-founder of Reliscore . He secured AIR 14 in IIT JEE in 1988 and graduated from IIT Bombay in 1992.
How does this post make you feel?