Engineering Students Washed Away in Vacations, An Inconsolable Tragedy!
The sightseeing trip to Himachal Pradesh turned tragic for all the tourist students, when these students, including some girls, who were taking photographs at the bank of the river Beas, were swept away by gushing waters of the river, as discharge of water suddenly increased following its release from the reservoir of 126 MW Larji hydropower project. Twenty- four engineering students from Hyderabad are feared to have been washed away in this tragedy, which happened on Sunday evening in river Beas near Thalot on Manali-Kiratpur Highway. The place is 40 km from Mandi. According to information available with authorities in Shimla on Sunday night, total 18 boys and six girls are feared to have drowned. Some students have alleged that the dam authorities opened the gates of the dam to release water without prior warning. The discharge of water increased suddenly, and caught everyone unaware, as the Project authorities released the water apparently without any warning. Infuriated people blocked the national highway after the incident. Considerable search operations had been launched immediately to trace the missing students, but there was no success due to darkness.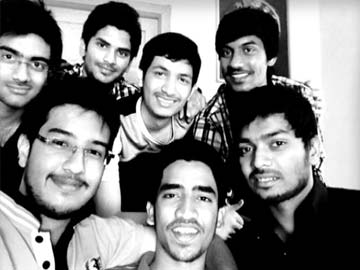 State officials said the chances of finding the missing students alive are dim, and as the days progress, hope is fading faster. The services of divers have been requisitioned as part of rescue efforts. About 20 students of the gang, who did not go to the river bank with their peers, are safe but are horrified of the incident. Efforts were made to get the necessary details of missing students from them, S. R. Mardi, the ADGP (CID) said. The incident has sent shock waves and parents and friends of the missing students are making frantic calls to know about their whereabouts. People living along the two sides of the river bank downstream of the dam have been alerted to inform the police about any person sighted by them. In the meantime, according to one of the witnesses – Pratyusha, aged 23, a 2nd year B. Tech student, dam authorities had released water by opening the gates without warning, leading to a flash flood and drowning most of the students. 'Many of my friends were drowned', said she, adding that she had escaped as she was late in going down to join the team. According to C. V. Anand, the Hyderabad city police commissioner, "When the students were busy posing for pictures in the backdrop of the dam of Beas, they met a water-grave as flood waters caused by sudden opening of the dam gates had drowned them." In total, there were 50 students, who were on a study tour to Kulu Manali, when the tragic incident occurred. 'It appears that the dam authorities did not follow the proper drill, before releasing the water in the river', the police official said after he spoke to his counter parts in Himachal Pradesh.
How does this post make you feel?