CBSE Physics 2014 Re-Examination to be Held for All Manipur Centres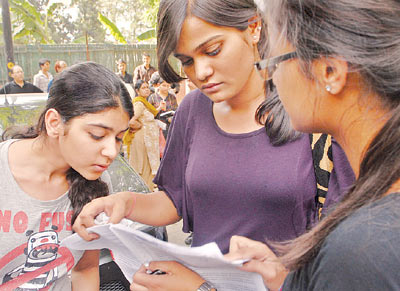 The Central Board of Secondary Education (CBSE) is facing the heat now as its Class 12 Physics Paper held on March 5, 2014 got leaked in Manipur. A local newspaper in Imphal got hold of these papers that were being sold for Rs 3,000 to Rs 5,000 and published these leaked papers online too!
Thus, the CBSE has cancelled the All India Senior School Certificate Examination (AISSCE) Physics exam for 2014 for all the centres in the state of Manipur citing 'administrative reasons'. It will now hold the re-exam for Class 12 Physics paper on April 2, 2014 from 10 am to 1:30 pm.
Over 9 lakh students are appearing for Class 12 exams from CBSE board this year. Many students are outraged at the decision that the CBSE has decided to hold the reexamination only for Manipur region where the problem originated. In this age of speed and networking, it is very much possible that students outside Manipur may also have downloaded the paper from Internet and got an unfair advantage over their peers.
Students from all over India are demanding CBSE to conduct Class XII Physics re-examination all over India. A signing petition is going around for this purpose at
Conduct Of Physics Re-Exam All Over India
How does this post make you feel?