Has Brand IIT been stretched too much?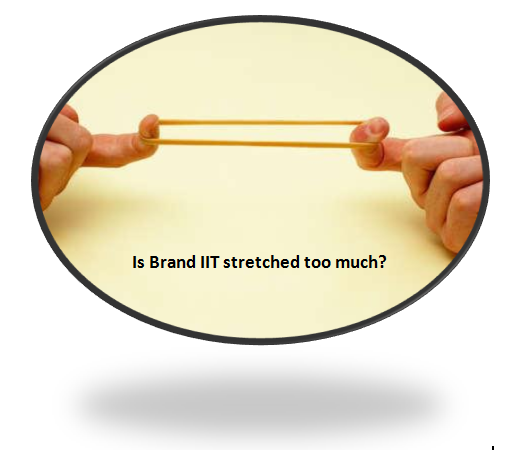 Suicides at IITs are in limelight these days. It is surprising that students who make it to the dream institutes for many in India since 1950s – Indian Institutes of Technology – give in to the 'said' academic pressure and stress.
In 2012, a record 4,79,651 candidates had appeared for IIT Joint Entrance Exam, or IIT JEE. The total number of available seats was 9,647. It means that there were 50 applicants competing for each seat at the IITs.
Despite all this competitiveness, it is alleged that over the years the standard of the JEE exam has gone down, which lets smart ones make it to the IITs even if they are not good enough.
Here are some of the reasons why people think that Brand IIT is getting diluted:
New IITs
There are 16 IITs in India. 9 of them came into being in or after 2008. New IITs such as IIT Bhubaneshwar, IIT Gandhinagar, IIT Hyderabad, IIT Jodhpur, IIT Ropar, IIT Patna, IIT Indore and IIT Mandi do not still match the standard expected from an IIT.
A professor from IIT Delhi explains, "For employers, old IITs that include IIT Kharagpur, IIT Bombay, IIT Delhi, IIT Madras and IIT Kanpur are most preferred. IIT Roorkee and IIT Guwahati have just started gaining some favour but the new IITs still have a long way to go. It is not enough to say that you are from IIT anymore. You have to mention which IIT are you from."
The increased number of IITs has eroded the reputation associated with Brand IIT.
MNCs are not willing to go to the new IITs as there is noticeable difference in the quality of students from there. Situated mostly in smaller cities and towns, new IITs fail to attract good faculty and do not have enough facilities too.
Employability of Engineers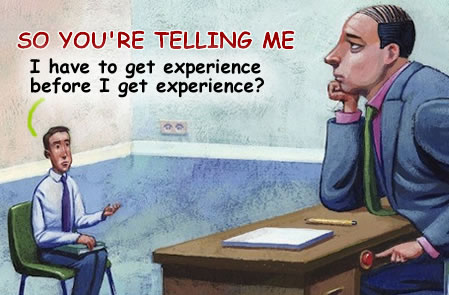 Indian engineering institutes produce about 600,000 engineers per annum and there are about 40 lakh students enrolled in engineering colleges.  However, employability of these engineers is very dubious.
Different surveys suggest that only 25% of engineers can be rendered employable after training. A survey conducted by Aspiring Minds in 2011 suggested that only 17.45% engineers are employable by the IT services sector while only 2.68% were fit enough for IT product companies. Engineering companies hire just about one out of 20 graduating engineers.
Naturally done, good quality engineering institutes are the need of the hour. Higher number of IITs placed strategically across India might help in churning out quality engineering talent in the future but right now, they are struggling with getting top notch faculty members.
A typical assistant professor in an IIT earns Rs 75,000 a month. Most engineers from Tier II colleges earn much more than that in corporate or JEE coaching centers. Yet, IITs cannot increase faculty salaries. This is one of the major obstacles IITs are facing to net good faculty members who in turn can help churn out better graduates.
Timings and Locations of New IITs should have been Spaced Out
IITs in remote areas like Ropar and Jodhpur find it difficult to accommodate "two-body" faculty members. In the times of today, when both husband and wife have career aspirations, it becomes difficult to hire only one as the staff member. IIT Mandi in Himachal Pradesh is amazing but it has only 22 faculty members, against the sanctioned faculty strength of 90.
Many even allege that political decisions have been the undoing of the new IITs. It would have been better if IITs had not been located in such remote areas, or had been spaced out – one every five years or perhaps two years.
However, it is expected that the new IITs may evolve over the next few years.
Crunch of Good Faculty Everywhere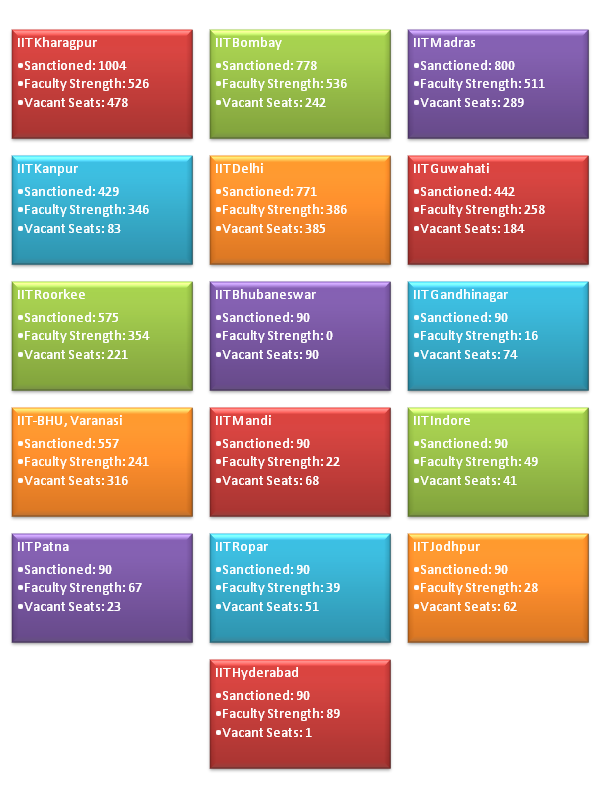 IIT Bombay has hired 100 faculty members from abroad since March 2010 while IIT madras has hired 30 faculty from abroad. To counter faculty crunch, IITs is focusing on research work now.  The Anil Kakodkar Committee of 2010 recommended that IITs should produce 10,000 doctoral fellows annually by the 2020-25 period in the hope that at least some of them will choose to teach at the IITs.
Teacher-Student Ratio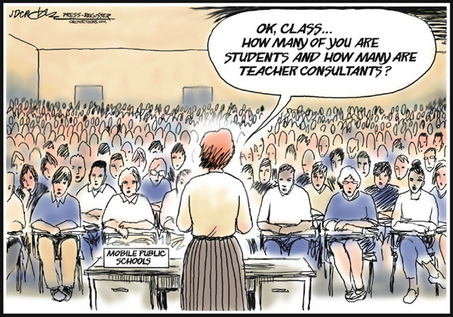 Ideal faculty-student ratio at IITs is accepted to be 1:10.
But currently, older IITs have a ratio of 1:16.
In 2007, IITs had 5,537 seats. By 2012, this number had increased to 9,647 – a hike of 74%. Most of the expansion took place in reserved categories as per the directives of MHRD. Naturally, this substantial increase in number of students compounded the problem of faculty shortage at the IITs.
While some of the IITs do update their textbooks every three years,
students often feel disillusioned with old professors taking the classes,
who have failed to upgrade themselves and still use over a decade-old notes while teaching. Besides, there are teachers who do not take all the classes and take frequent leaves.
The student magazine of IIT Bombay – Insight – conducted a survey which revealed that many of the students were not happy with the quality of teaching there. 88% IIT-B students felt that their professors were boring while 72% felt that the course content was too theoretical and lacked application perspectives. The survey also revealed that IIT Bombay faculty spends more time in research than in teaching. This is about the institute chosen by 70 of the Top 100 JEE qualifiers.
IIT Kanpur professors are concerned about large class sizes too. It is affecting the quality of teaching too. 25 years ago, teachers used to give out assignments to students every week, which were graded and returned on time. But it is not possible anymore. Due to larger number of students, teachers have no time to grade the assignments. Besides, the personal connection between students and faculty members has diminished considerably too.
Disconnect with Needs of India & Diminishing Quality of Students

IIT alumni alleged that to be 'elitist', IIT coursework has lost touch with the needs of rural India. In fact, Industrial Training Institutes (ITIs) have produced students that have come up with products more relevant to agriculture.
Besides quality of students from reserved categories is being criticized too, though only in hush-hush tones.  Experts say that while General category and OBC category students perform about the same, things are different with SC/ST students. The average pass out grade for General or OBC category students is 7.3 while the average pass out grade for SC or ST students is 6.5.
Hence, in the online survey conducted by the Kakodkar Committee, many suggested that the structure and pattern of the JEE should be reviewed periodically and that the expansion should not be done at the expense of quality. 


The students from Hindi medium also face problems in following lectures in English. IITs do conduct counselling for such students.
20 years ago, career ambitions were also not so high. Today, students have chalked out a definite career path by the time they enter IITs. This interferes with the way they take education.
JEE Coaching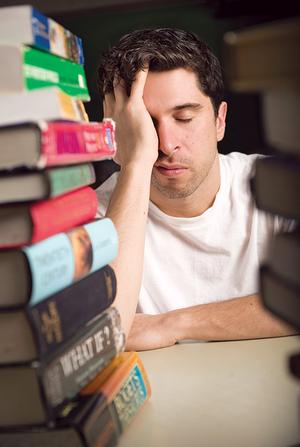 Coaching culture is also making a dent in quality of students who make it to the IITs. According to a JEE 2012 report, only one in five registered students took coaching for the entrance exam but 50% of successful candidates had taken coaching classes for the exam.
In a coaching class, students are taught time management. Hence, if a question is beyond student's capability, he or she will move on. On the other hand, a bright student who hasn't received coaching may attempt it as a challenge and waste too much time on it, and lose out to a coaching product.
The irony is that JEE has been responsible for the rapid growth of coaching industry in India.

Earlier, IIT JEE had a multiple-choice exam followed by a problem-solving exam, which was graded by humans. But now, with millions of students appearing for the exam, it has become difficult to grade a subjective test. MCQs gave coaching industry a chance to play without cultivating real understanding of concepts in students.
Such students are not serious about coursework on IIT campus. The attitude of students towards academics has changed. A few years ago, 5-10 students from Mechanical Engineering department at IIT Madras used to publish papers. Now, not even a single student is willing to do that at that level. IITM shuts Internet connectivity for a few hours at night to encourage students to catch some sleep.
The Insight survey indicated that 75% IIT-B students did not study if they had no assignments and 80% students studied for less than a week.
Other Colleges are Catching Up
Many employers believe that other colleges are catching up with the IITs. P. Anandan, Managing Director of Microsoft Research India, believes that he has had good experience with students from Indraprastha Institute of Information Technology, Delhi (IIIT-Delhi), and International Institute of Information technology in Hyderabad.
Vineet Kaul, the Chief People Officer at Hindalco Industries Ltd, stated that the top quartile of the students at NITs and BITS are comparable to talent at the IITs.
The tougher competition in India and the lower ranking of the IITs in international university rankings spell disaster for Brand IIT.

In the QS World University Rankings 2012, IIT Delhi ranked highest at #212. None of the IITs made it to the top 200 universities of the world.

Where do you think Brand IIT stands right now? Do post your comments here.
This post was published by Aditya Singhal, co-founder of askIITians.
How does this post make you feel?