Bihar students denied admissions in DU for CBSE's fault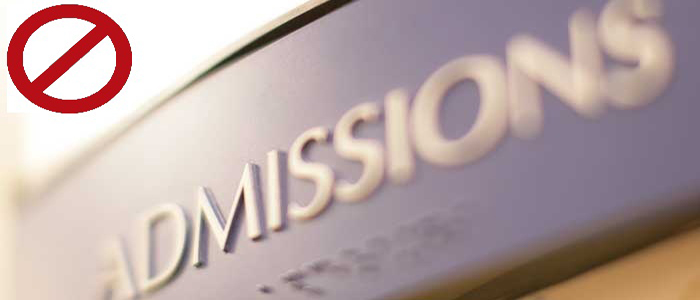 Getting an admission in the Delhi University by clearing its first cut-off is definitely a dream come true for many. Atal Ayush, a student from Patna, came to Delhi with the hope of realising his dream after he met the cut off for Kirori Mal College. But he had to pay the penalty for no fault of his. The admission was denied to him as the CBSE has not yet issues the mark sheets for Patna.
In Ayush's words, "I had cleared the cut-off at Kirori Mal College for B.Sc (Hons) and took an admission on 2nd July. In the evening I got a call from the college saying that I had just one day to furnish my original mark sheet else it would lead to cancellation of my admission."
He added that in spite of repeated complaints to the university no remedial action was suggested. The university completely denied any information about such a case being reported at the Dean Students' Welfare (DSW), where the applicants can file their grievances.
Ayush is not alone in this battle. Around four more students apart from Ayush have been allegedly denied admissions on the same grounds on the very same day. All these applicants belonged to the Bokaro and Patna regions. Even after submitting attested printouts of their online mark sheets, the aspirants lost an opportunity to study in the prestigious Delhi University.
"We were asked to give an undertaking that the original mark sheet will be submitted in one weeks' time. Till then we submitted the printed copies of our mark sheets available on the CBSE website which has all the details. With the help of my roll number, the authorities can verify my marks from the website of CBSE," added the troubled 17-year-old Ayush.
Similar cases of admission refusal have also been reported in other colleges like Shaheed Bhagat Singh and Ramjas. "Some applicants could not furnish their original mark sheets at the time of admissions and we had to refuse admission to them," said Mr. Prasad, the principal of Ramjas College.
However, such denial of admission by the university is unacceptable as per the CBSE chairman Vineet Joshi. He said, "If any student is denied the admission on the ground of not producing the original mark sheet, he/she can contact the Delhi head office of CBSE."
Delhi University receives thousands of applications every year from Bihar and Jharkhand. Nearly 16000 applications have been received by the university from the region this year.
How does this post make you feel?