Top Do's and Don'ts for AIPMT 2014: Time Management and Other Strategies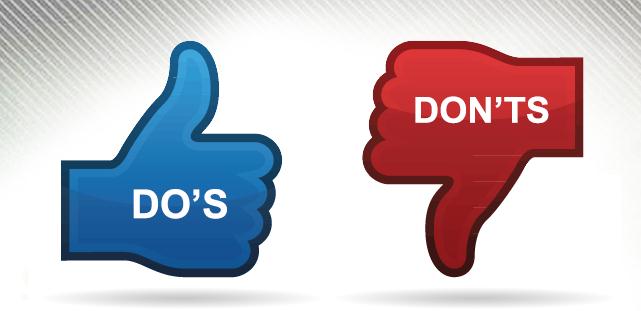 We roped in Shailendra Maheshwari, Director of Academics for AIPMT 2014 at Career Point (Kota) to offer some ideal tips, tricks, do's, and don'ts to students ahead of AIPMT 2014 examination set to commence on Sunday May 4th.
So just let's go through them one after one and ensure success in the examination now.
Do's (A Day before Examination)
Checking the location of the examination center is crucial as its helps avoid last moment rush before the examination.
Ensure yourself of the right examination center in case the name of your examination center is common. It might create problems right at the last moment.  So be really careful.
Revise important formulas and short notes.
Have faith in you and keep patience.
Eat right and balanced meals.
Work out to stay healthy.
Sleep well.
Don'ts (A Day Before Examination)
Don't get nervous while preparing for the examination.
Don't lose faith in you.
Don't attempt anything new.
Don't neglect your health.
Don't hit the sack late.
Don't skip meals to spend more time on preparation for the big day tomorrow.
Don't oversleep.
Do's (During the Examination)
Read the problems on the question paper carefully to avoid silly mistakes.
Fill all your particulars (such as names, roll no. etc.) in the paper correctly.
Check the questions on the question paper as per the level of their difficulty.
Attempt easy questions first.
Attempt difficult questions later followed by the questions you are not sure of. 
Don'ts (During the Examination)
Don't rush to reading questions.
Don't use pen where pencil is required.
Never attempt difficult questions first.
Don't attempt any question randomly.
Don't rush to write an answer.
Don't waste too much time writing an answer.
Tips and Tricks for the AIPMT 2014 Examination Day
Spend some time analyzing the question paper first.
Once you are done reading the question paper, you must mark the questions as per the level of their difficulty.
Now answer questions in sequence as per the level of difficulty.
Obviously, attempt easy questions first followed by difficult ones.
Move to another question if you have already spent too much time on a single question.
Don't lose your focus while answering a question.
Attempt questions from Biology first as they are usually easier than Physics and chemistry.
The best time management strategy during the examination is to attempt easy questions first followed by difficult ones. This way you save a lot of time for yourself.
Don't let your energy wither.
 Don't Panic.
How does this post make you feel?