The rise of IIT Guwahati, a saga to remember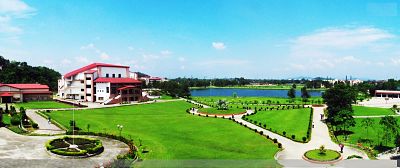 had its work cut out in 1994 when it was first launched, the result of a promise made by then Prime Minister Rajiv Gandhi to student protestors. Apart from coaxing students and faculty to a remote location in a violence-ridden state, IIT G had to replicate the standards of academic excellence set by the other Indian Institutes of Technology. Now two decades down the line, they're at the top: IITG is the only Indian college to make it to the '100 under 50' listing of new global universities, being 87th on the UK-based Times Higher Education World University Rankings.
So how did this happen actually? Even in 2004 also, the IIT review board was grappling with the 'special case' that IIT-G put forth. The review report stated that the 285 hectare campus, which is located 20 km from the city centre, incidentally was in a region that suffered from 'locational disadvantages'. Besides poor rail and road networks, the single track rail link from Guwahati to New Jalpaiguri was said to be prone to disruption by floods, accidents and other troubles. The report also mentioned parents' fears of its remote location as one of the reasons why the IIT-G campus was known as "the last choice in any branch among all IITs", for the students. Employment and retention of faculty was another problem heightened by this "under-developed area".
The turnaround came in the last five to six years with a new focus on recruiting locals and serving locals through investigation. Several members, including department heads and even two former directors, Gautam Barua and DN Buragohain, have roots in the region. According to S S Mantha, the chairman of the All- India Council for Technical Education (AICTE), "It's important to connect with the local ethos".
Taking its cue from the 2004 review board propositions, IITG introduced various incentives for faculty members, including a special area allowance. It also offered new faculty members a 'start-up research grant'. 22 projects worth Rs 1. 08 crore were sanctioned under this scheme in 2013. "Our research work has been published in many international journals," tells IITG director Gautam Biswas, naming  it the institute's greatest strength.
Faculty figures are on a steady rise: in just three months, i.e. from end 2012 to March 2013- 29 appointments were made to take the total teaching staff to 325. It has come a long way from the time IIT Guwahati was just two years old, and the then director Gautam Barua went to the US scouting for talent among former IITians.
Several of those he interviewed, were not even aware that a new IIT had come up. "We were mostly left with candidates not picked up by any of the older IITs." exclaimed Barua. So what was the solution? To look for talent within! "We knew the strength of the IIT system and realized that there were many bright PhDs that the IITs were graduating… "
Today, this institute is attracting global talent, and has about 15% faculty having graduated from top universities abroad.
The jump in student numbers has also been noteworthy. PhD students have gone up from 895 in 2012 to 1,113 in 2013. They even have 14 foreign students enrolled for various full-time programs. "One of our thrust areas is to develop a student care system that can activate dormant capacity of poor performers." tells Biswas, thus revealing that a mechanism of "hand-holding" by well performing students is being designed.
The institute's biggest disadvantage, insurgence, has also been sorted out to a decent level, with violence in the area lessening. Natesan Srinivasan, the mathematics professor, articulates that up until 2003, the time he joined IIT Guwahati, it was a big concern for faculty and parents equally. "Our fears went away after we saw the picturesque campus. And thanks to our research reports making waves, now we hear good stories instead." says Srinivasan, trying to pick up basic Assamese. The parents too are more open-minded about sending their kids to the distant northeast, as compared to, those back in the '90s.
The beautiful buildings and scenic IIT Guwahati campus are an additional plus point, say educationists. According to Mantha its success can serve as a role model for the newer IITs struggling to establish their reliability. "Building strong local ties through consultancy assignments is another Guwahati lead they can follow now." he says. More than 133 consultancy projects were undertaken in 2013 with state government departments, National Highways Authority of India, railways, oil and gas sector, and so on. The institute received new projects of Rs.42.6 crore in 2013, much more than the Rs28.35 crore projects in the previous year.
The most significant indicator of an institute's success is its ability to find jobs for students and IIT G has done well on that front too. In 2013, out of the 909 students registered for IIT Guwahati placements, 100% B-Design and 72% B-Tech have been placed. "The turnaround of IIT-G demonstrates how software can trump hardware, how disproportionate signalling value can be created by international rankings, ad how a hostile geography of work is not a binding constraint for institutions of higher learning." says Manish Sabharwal, the chairman and co-founder of staffing firm Teamlease Services. He adds, "This will be good for the IIT system as it will foster competition since some of the older institutions were starting to cruise on past glory."
How does this post make you feel?