Retired IIT-Delhi Professor on a Mission to Save the Lost Art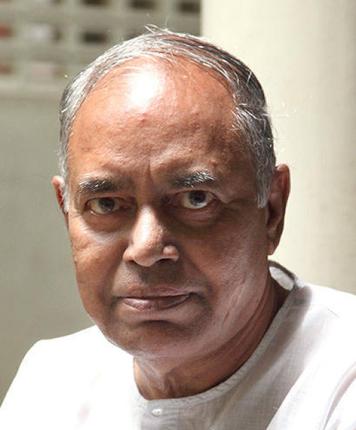 Taking up on challenges is a common trait of IITians and proving this idiom correct is retired professor of mechanical engineering from IIT-Delhi, S. Swaminathan who is on a noble mission to save an important Jain cave complex in Sittanavasal, Tamil Nadu.
After Ajanta and Ellora, Jain cave complex is an important historical heritage in Tamil Nadu, which is soon going to ruin due to neglect by the concerned authority of the state.
"I am interested in our heritage and I am also concerned about its loss due to callousness and vandalism. While teaching at IIT-Delhi, I did substantial documentation of the paintings in the caves of Ajanta and lectured to the public on the importance of these paintings and the need to preserve and popularize the same. Sittannavasal lies in Pudukkottai district and I belong to Pudukkottai. I have been seeing the paintings from the 50s. I am upset about the slow but definite damage to them. The current state of these paintings is pathetic. More than 80 per cent is already gone. There has been no effective action to take care of what is remaining," retired IIT-Delhi professor rued.
He held the concerned authority of the state and the public responsible for the decline of Jain cave complex.
The retired IIT-Delhi professor has been actively involved in raising awareness programs about this issue. He has also sought support from various sections of people. During a talk organized by INTACH, S. Swaminathan proposed an idea to Sudharanam for preserving the site.
He proposed to have the setting up of a full-scale replica of the cave temple with its painting recreated to its original state to offer people an opportunity to appreciate its lost glory.
"This will also help preserve the monument, particularly the paintings, from further damage by keeping the original cave under controlled conditions," he said. In his proposal during the talk, he stated to have the building of thematic pavilions around the re-created cave temple in a bid to highlight the features of Indian heritage for which the Sittannavasal monuments are famous.
S. Swaminathan has been an active member of other relatively noble social causes in the past. Having served as the national coordinator for watershed development and Integrated Rural Technology Centre, Palakkad, Kerala, he has also taught a course titled Art and Technology at IIT-Delhi.
"Realizing that Indian youth have an inadequate understanding of our heritage, and consequently lack a sense of identity, I decided to acquaint the students of IIT-Delhi with various aspects of our culture. Not being an expert in the field, I found, may sometimes be an advantage, as the audience is not put off by jargon, and interact with the speaker in an uninhibited manner," he said.
This post was published by Rakesh Singh, The product head at askIITians and an IIT- Delhi and IIM-Kozhikode alumni.
How does this post make you feel?