JEE-Candidate Went on Fast for not Making It to JEE Merit List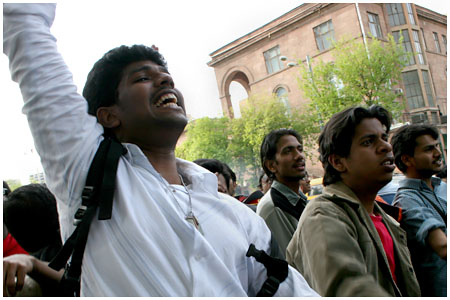 Just because the reputed IITs have made headlines for all the good reasons always doesn't mean that they were never in news for some embarrassing moments. One such embarrassment was broke loose on IITs a few years back when one of the JEE candidates went on a fast after failing to make it to the merit list.
Highly inspired by Anna Hazare and Arvind Kejriwal movement, Tinku went on a fast blaming the JEE for not realizing his true potential. The guy thought that the 6 hour examination can't truly judge his real intelligence, which is otherwise biased on Kota system.
"Anna Hazare went on a fast for what he believes in and so can I," Tinku was quoted as saying to the media in June, 2011.
Before going on a fast, they guy had a royal five-course meal prepared by his maid servant.
"Tinku baba needs energy for his fast," said Sakkhubai, the maid servant.
Cashing in on the news were struggling actors who made it a point to be there with the guy to be spotted by the media.
"I heard that there were TV people covering some boy's fast, so I came to support him. Who knows, I may be on the front page tomorrow and a movie director calls me up for a movie," said Neha one of the attendees. Interestingly, she had her face glowing as if she had her face painted by AsianPaints.
There were Tinku's friends too for his support.
"IITs should consider the passion and commitment of students before taking them in. My friend is passionate about vodka and has been committed to 15 girls," said Akash to the media.
"I always felt that my son would amount to nothing, but look at him today, he is doing something that the famous people in our country do. Now even he will be famous. I say every child who wants to achieve something in life should go on a fast until he achieves it," said the father of Tinku.
"If Baba Ramdev is doing it, it means that a hunger strike must be beneficial to the body and will cleanse the mind, body and soul," said the mother, needless to say, an ardent Ramdev follower.
Though the guy seemed determined, he was caught stealing glances at the delicious samosas his maid had made for his supporters.
Expressing concern over the fast, Kapil Sibal called for an urgent committee meeting.
"We agree that IIT-JEE is no judge to a student's merit. In fact, seeing the current scenario, we believe that JEE should be scrapped and admissions to IITs should be given only on the basis of fasts. Students will be judged on the length and severities of fasts they impose upon themselves and on how many people come to support them. Extra credit will be awarded if there is an armed uprising," said Kapil Sibal.
Meanwhile, Tinku's friend had also declared to go on for fast (Just like his favorite author Chetan Bhagat and Yoga Guru Ramdev) if the demands of his friends were not met by the government.
No demands of Tinku were met by the then Government. The guy a couple of months after was caught by his followers chewing on his nails on the toilet seat, which ruined his movement completely.
The news did not bother the IIT administration as they were already in the business of starving IITians for their benefits.
IIT,IIM alumnus feels hopeless as he tops UPSC too in a row
Celebrities who cleared IIT JEE but opted not to join IIT!
How does this post make you feel?