An IIT Alumnus Creates Charles¬—A Robot that Can Sing and Read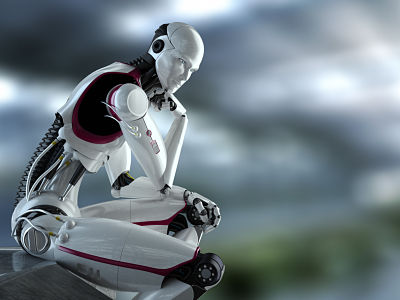 Robots that can talk and sing invariably conjure up the memories of Hollywood sci-fi blockbusters. But this time if you find a moment, spare a thought of robots in real life that cannot only talk, but also go shopping for you and read your emotions.
Bringing this sci-fi adventure in real life is an IIT alumnus Rajiv Khosla who is currently a professor at Australia's La Trobe University. His invention Charles or Charlie, a robot, is touted to be one of the most advanced robots ever made in the modern age.
It can talk, sing, read, shop, and even read human feelings in a matter of few minutes.
A Partner-Personal Robot or PaPeRo stands 20 cm tall. Rajiv Khosla's invention has been designed to assist adults and kids suffering from problems like dementia, autism, cerebral palsy, and brain injury.
"A child with dementia will often forget to wash his hands in the washroom. The robot will constantly have his eyes on him and remind him that he hasn't washed his hands and that he needs to do it," said Rajiv Khosla during the demonstration of the model in New Delhi.
With over 20 field trials, Charlie and other robots can take commands through voice, touch pads, tablets, and facial expressions. They are competent enough to understand the emotions of human beings and act accordingly.
"These robots are multi-lingual and can be personalized based on the language, culture and lifestyle of their human partners," said Rajiv Khosla during the event in New Delhi.
Rajiv Khosla is an IIT alumnus and an expert of making emotionally engaging robots.
"Once the emotional status is established, then the learning starts for both the robot as well as the human being. It can be used by all age groups to take therapeutic effects and positive stimulus," he added.
"While other apps and phones in the market are screen based, Charlie is not. It will provide personalised services naturally. It looks at the mood and the expression unlike other apps and then responds accordingly. It is not a button-bound apparatus," Khosla said.
Weighing 6.5 kg, this robot, made in association with NEC Corp (Japanese Electronics Giant), will also prove helpful for parents babysitting.
"Till now we have deployed seven such robots in Melbourne at homes with health conditions. And the owners are perfectly happy with them. The whole idea of PaPeRo is to compliment human beings," Khosla said.
Its static version needs to be carried and plugged once it is out of battery while its mobile version can walk on its own to the docking station and charge on its own.
Charlie's Indian market price is set at Rs 90,000
This post was published by Rakesh Singh, The product head at askIITians and an IIT- Delhi and IIM-Kozhikode alumni.
How does this post make you feel?