Exam Scores tell something, but they do not tell everything
Barrowford Primary School in Lancashire, UK sent a beautiful letter to its passing-out children along with their exam results. A parent posted it on Twitter and soon won global adoration of parents and teachers alike.
Signed jointly by the Head Teacher Rachel Tomlinson, and the Head of Year Six Amy Birkett, the letter emphasizes that while standardized testing is not a perfect reflection of what children really are or can be in the future.
Here is the full text of the letter:
The letter is not quite original. Last year, it had been doing rounds on Facebook in the name of an unidentified elementary school where the names of the pupil, Principal and the state had been removed. There is a hint of Americanism in this letter too – which refers to travelling to 'a really neat place' – something which is not how somebody from the UK would say.
Ms. Tomlinson admitted that she first read something to this effect about six months ago and felt that it can help ease the anxiety of children at the end of the school year. But she was pleasantly surprised that the letter has received such a positive international response. She insists that the letter only reiterated something that her school follows on a day-to-day basis.
The head teacher said that the letter had nothing to with education policies or new standardised testing procedures nor was it meant to give a shoulder to children who failed. It just meant to express that we are proud of all the children and that exams represent 'only a little bit of what they take away from the school'.
The letter is relevant not only for primary school students. It is relevant to students of all grades and all ages. As we prepare for entrance exams, we often forget that we have a life beyond engineering or medical institute. Our Class 10 board marks, Class 12 board marks, entrance exam marks, and marks at engineering college or medical institute are all important steps towards a successful career – but they are not the end of the world.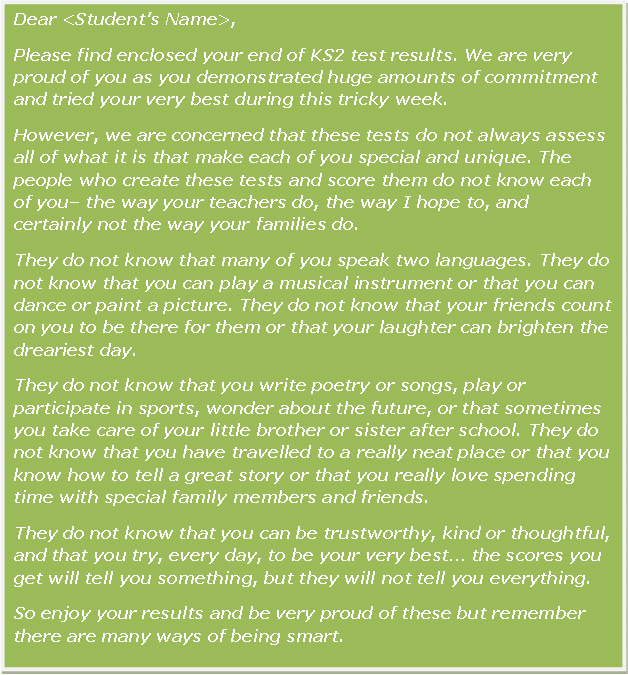 We have a life beyond it. We should not be so obsessed with 'exams' that we forget to live and do and shine in what we really love.
To discuss your exam woes, talk to askIITians experts who have first-hand experience of cracking IIT JEE and studying in most prestigious engineering colleges of India. Fill up the form below and contact them for free.
How does this post make you feel?