Are the budding inventors form Bhopal actually better than those from the IIT?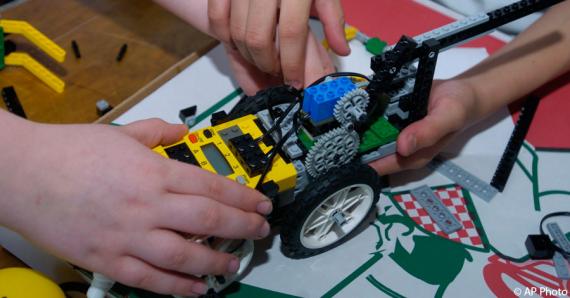 The IIT tag grabs the attention of everyone. You are an IITian and your life is set! You will easily get cushy jobs, investors etc. and the list is just endless. If you are in IIT or in one of the top 20 engineering colleges in India and scoring in 40s, you are far better placed than the one scoring in 70s in a not so elite college. Same is the case with Saurabh Mishra of Bhopal who claims to have invented a LED tube light by fixing 80 LED lights into it. The proud 19 year old believes in being like Rancho of 3 idiots and asserts that his 4 watt tube light has the ability of yielding electricity equal to that produced by a 20 watt CFL.
This issue is often faced by students who are not able to make it to the top engineering colleges in India. They are unrecognized masterminds, who despite their brilliance and intellect face issues in getting sponsors, funds and copyright on their new inventions.
Majority of their inventions are novel but they need to get it copyrighted in order to prove their uniqueness. The inventors require huge sum of around 50 lakh to get the copyrights for their new inventions. The innovators from Gyan Ganga Institute of Technology and Management, Bhopal proclaim that the college can finance their inventions but only to certain limit. Hence, it is vital for the government and big corporates to fund their inventions.
These local techies allege to be at par with the inventors in IIT colleges in India. They have won several awards in various national fests and only require financial assistance. As a matter of fact, if some students from some top engineering college in India invent something similar as invented by these local techie and get a copyright, then their efforts will go waste.
Some of the major inventions and inventors include:
High-speed car and high-speed buggy car with GPS tracking system was presented by Bhuvnesh Sahu, 20, Garvesh, 20, and Ganesh Gaikwar, 20 at IIT fests but are still in search of sponsors.
Abhishek Shrivastav, 19, Saurabh Mishra, 19, Gopal Mohta, 20, and Anushree Agrawal, 20 have successfully invented an automatic sensor streetlight which runs on solar energy and it lights the moment a vehicle is in its vicinity.
Pritesh Aura, 20 claims to have invented an exceptional fog projector. The projector has the capability of running televisions and LED by fog but he has not been able to present it on a bigger platform yet.
Bhuvnesh Sahu has invented a RC plane which shall aid the farmers in scattering pesticides in their fields.
Students form these local colleges are of the opinion that engineering is not just cramming of notes. They have already invested around a lakh in presenting their inventions in various fests. While those form elite colleges easily get sponsors for their inventions these techies have to really fight for getting the sponsors.
This post was contributed by Alok kumar Singh, askiitians expert !
How does this post make you feel?