The Academic Way to Achieve Glory for 150 UAE Students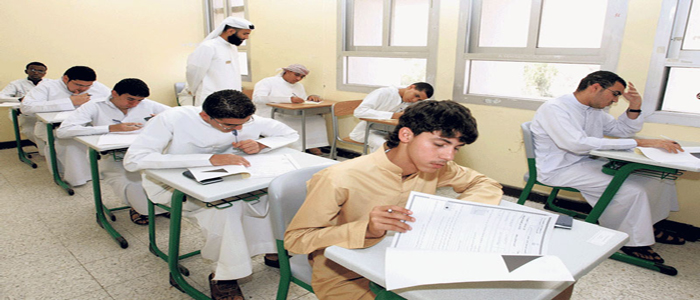 The most common question that all students face, especially as soon as they appear for Grade 12 exams is "What do you want to do in the future?" A student's answer can range from one that they have memorised to satisfy their parents and one that lets the child run away from prying adults. But, what each adult forgets that each student is already working at education all year round, participating in academics, sporting and extra-curricular activities.  One hundred and fifty meritorious students of Grade 12 exams witnessed firsthand that excellence in academic is recognised by one and all, as they were honoured by UAE Deputy Prime Minister and Minister of Presidential Affairs Shaikh Mansour Bin Zayed Al Nahyan.
All the 150 students gathered at the UAE capital Abu Dhabi at a felicitation ceremony organised at Emirates Palace Hotel. Government Officials, Dignitaries, students and their families along with the media attended the ceremony. Notable is the fact that these 150 students were chosen from the 1,36,621 who had appeared for the 2013-14 Grade 12 exams held by the UAE Ministry of Education. The highest percentage scored was by Egyptian student Ahmad Shaheen who achieved an amazing score of 99.85 per cent in the Science stream. Not far behind was the literary stream topper Mariam Ali Maslahi from Emirates with 99.92 per cent.
The President His Highness Shaikh Khalifa Bin Zayed Al Nahyan granted cash awards of Dh20,000 to toppers of each education zone. He follows the tradition of UAE founder who believed that education of students is an asset for nations eager to advance. What is most remarkable is that the learning philosophy has touched the lives of students with special needs too. Six of them were felicitated for achieving percentages higher than 95 per cent. Each student who attended, along their respective teacher and parents, were understandably very proud of the achievements and excited to be honoured and felicitated by the biggest names of the country.
But, as they celebrated their success and were felicitated for their achievements, each student who achieved glory spoke about their work ethics, their commitment to their studies and the support of their teachers and family. Each student was inevitably asked the question mentioned above "What do you want to do the future?" No parroted answers or escapist behaviour here! Since each student has shown the fortitude and intelligence to pursue their aspirations with academic excellence at school, each answer gave specific plans for the future.
If you have any query or need any assistance regarding the preparation or other details of any entrance examinations like jee/ ntse/ kvpy/ bitsat etc., then please fill the query form below and our executives will be happy to help you!
How does this post make you feel?