16 Best Tips and Tricks To Crack AIPMT-2014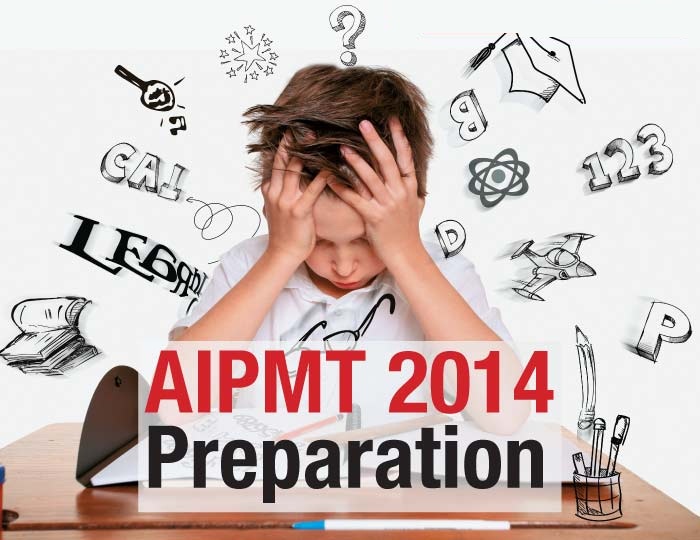 With AIPMT-2014 date approaching all too quickly now, aspirants are in serious "grasp-all-you-can" mode. The exam which is considered to be students' idealistic gateway to MBBS or BDS degree is all set to take place on May 5th, 2014. The scores obtained in the exam will fetch 15 cent undergraduate medical and dental seats to its aspirants in Government Medical/Dental Colleges of India in addition to participating State Government's Universities/Institutes.
Considering the exam is just a month or so away, this is the best time to give a serious shot to smart revision tactics. Hence, we've got you some best tips and tricks to score high in the upcoming AIPMT-2014 exam.
Here we go!
Getting Familiar with the Paper Pattern
All right! As all you've been preparing for it for a long while now, you already know the drill. The AIPMT-2014 test will contain 180 objective-type multiple choice questions from Physics, Chemistry and Biology (Botany and Zoology). Students will get 3 hours to write their papers. The syllabus is based on topics both from Class 11th and Class 12th.
Getting Familiar with the Syllabus
Physics – 45 questions:  
Class XI: Physical World and Measurement; Kinematics; Laws of Motion; Work, Energy and Power; Motion of System of Particles and Rigid Body; Gravitation; Properties of Bulk Matter; Thermodynamics; Behavior of Perfect Gas and Kinetic Theory; Oscillations and Waves
Class XII: Electrostatics; Current Electricity; Magnetic Effects of Current and Magnetism; Electromagnetic Induction and Alternating Currents; Electromagnetic Waves; Optics; Dual Nature of Matter and Radiation; Atoms and Nuclei; Electronic Devices
Chemistry – 45 questions:
Class XI: Some Basic Concepts of Chemistry; Structure of Atom; Classification of Elements and Periodicity in Properties; Chemical Bonding and Molecular Structure; States of Matter: Gases and Liquids; Thermodynamics; Equilibrium; Redox Reactions; Hydrogen; s-Block Element (Alkali and Alkaline Earth metals); Some p-Block Elements; Organic Chemistry – Some Basic Principles and Techniques; Hydrocarbons; Environmental Chemistry
Class XII: Solid State; Solutions; Electrochemistry; Chemical Kinetics; Surface Chemistry; General Principles and Processes of Isolation of Elements; p-Block Elements; d and f Block Elements; Coordination Compounds; Haloalkanes and Haloarenes; Alcohols, Phenols and Ethers; Aldehydes, Ketones and Carboxylic Acids; Organic Compounds Containing Nitrogen; Biomolecules; Polymers; Chemistry in Everyday Life
Biology – 90 questions:
Class XI: Diversity in Living World; Structural Organization in Animals and Plants; Cell Structure and Function; Plant Physiology; Human Physiology
Class XII: Reproduction; Genetics and Evolution; Biology and Human Welfare; Biotechnology and its Applications; Ecology and Environment

Tips and Tricks:
Ensure that you cover all the topics given in the syllabus. You must not avoid skipping any topic at all.
Start in a smart systematic way. Start with Class 11th syllabus and then move onto Class 12th syllabus. Hone your skills in the basic concepts.
Go ahead clear your doubts from class 11th syllabus even if you are in class 12th. Don't hesitate. It is really better than performing poor in the exams.
Don't wait for the right moment to start your preparation. Every moment is the right moment to start and prepare for the exam.
NCERT books are ideal for preparation. Don't neglect their importance over other books. Start with NCERT books and then move on to other books if you want to.
If you are preparing from other books then focus more on question banks/ sample papers/ previous papers and buy text books for topics you have doubts in or are weak in.
Ensure that answers are given when you are buying question banks/ sample papers/previous year papers. This will help you identify and improve on the sections you went wrong with.
You must prepare a quick revision sheet for each subject. Make a list of difficult points that you think you are likely to forget.
You must follow a subject-wise study patterns for each subject. For example, use flow charts for Biology Processes, a formulae list for Physics numerical, and mnemonics for Biology and Chemistry.
Come up with a fresh study timetable every month based on your success or difficulty with the current study schedule.
Ensure to study 2 subjects per day and try to increase it to 3 subjects to get into the habit of thinking about all 3 subjects that will appear in the exam.
It's important to study diagrams because any diagram based questions may come.
Remember that AIPMT questions are not repeated always. Hence, it is important to revise all topics carefully.
Spend extra hours honing your skills in Biology because 90 questions are based on it in the exam. Give equal importance to both Botany and Zoology.
It is important to practice Sample papers and previous year papers in the time limit. Write papers in 3 hours.
Ensure that you revise twice.
This post was published by Aditya Singhal, co-founder of askIITians.
How does this post make you feel?