To serve humanity, an IIT-B Engineer turns into a Doctor!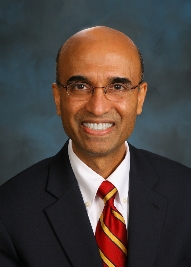 Many of us fail to realize our self-actualization factor even till the end of our lives. But that is not the case with this man, who changed his entire professional career to serve the mankind. Here is the miracle story of a man, for whom humanity is the mission in life.
Dr Venkatraman Sadanand's resume is so remarkable that it can inspire awe from just anyone. The IIT-Madras engineer, turned-economist, turned-paediatric neurosurgeon, believes in the theory of looking at patients not as just an assignment. This doctor who treats his patients as his own kith and kin as an irrevocable commitment, says that there are up to 20 million surgically treatable epileptic patients in India today. According to Dr Sadanand, "There are only around 1,000 surgeries scheduled in the country every year, so we are never going to catch up". But that is not going to weaken his morale. He's going to try whatever is feasible anyway.
Dr Sadanand, works as a professor of neurosurgery at the Loma Linda University Medical Centre in the US. His specialization area lies in the treatment of epilepsy. Though he lives in the US, but still he visits India four times every year to carry out free surgeries at hospitals in Kochi, Ahmedabad and Bangalore.
Sadanand, a doctor, who believes in putting "care" into healthcare literally, speaks in a very matter of fact way as he puts in, "I've always found it important to help people". Not just India, Sadanand has carried out free surgeries in countries like Sri Lanka and the Philippines after they were hit by tsunami in 2004, and Haiti, when it was hit by the 2010 earthquake.
Sadanand, who got his BTech degree in electrical engineering in 1978, proudly says, "An institution like IIT gives you a perspective that prepares you to succeed". According to him getting education in a country like India made him realize his privileged disposition.  "I come from a middle-class family and found myself in an elite institution, when a lot of the world around me didn't have any chance of getting an education", he adds.
The graduation from IIT was not the ultimate career choice for Sadanand. Thus he joined the California Institute of Technology, from where he earned an MS and a PhD in economics. He published papers on economic competition and game theory in leading journals, and also received awards for teaching.
At such a point in career, where Sadanand was already a very successful professional, he found his passion in serving humanity and thus he chose to study medicine putting his golden career at stake. But his willpower to realize his passion was so strong that he completed an MD at University of Toronto, where he specialised in neurosurgery and focused on working in paediatric neurosurgery. As Sadanand recollects, as a teenager, he was always confused in choosing any one option out of engineering, medicine and physics. He says he joined IIT as it was his father's wish, but he never regrets and decision taken so far.
But as it is said, education never goes wasted. Being trained and experienced in three different fields lets Sadanand to make optimal use of equipment, look into hospital management, talk about new surgical equipment, and teach neurosurgery at one go!
According to Sadanand, India has experienced changes at a very fast pace over the past few years. He says. "Some changes worry me and some make me happy. I'm glad about the galloping changes in technology. The other part is we are losing our sense of identity and trying to acquire one that may not be ours."
Sadanand has been practicing in the US for 11 years now, but his attitude and approach still remains Indian. He believes medical care is a healing process which doesn't just treat the body, but also the mind and spirit of the patient, leading them to a fuller recovery. According to Sadanand, "I believe that caring for someone must include treatment of diseases, medical interventions, spending time with patients and their families, taking all measures in patient education to prevent diseases, and finally do my best to enable the patient to get back to their normal lives."
Sadanand quotes Hippocrates, "It is more important to know what sort of person has a disease than to know what sort of disease a person has." And to this he adds, "I believe it is even better to know well both the disease and the person." Where according to today's belief that good healthcare is technical excellence, Sadanand feels, "Good healthcare is the delivery of excellence combined with compassion, love and an approach to address the whole patient whose body, mind and soul present to the doctor. Only then does a doctor rise to become a healer."
Sadanand was one of 10 achievers that IIT-Madras on Thursday honoured with its. On 17th April, 2014, at IIT Madras's 55th Institute Day, Sadanand was honoured with the Distinguished Alumnus Award 2014, along with other 9 achievers.
How does this post make you feel?