President Pranab Mukherjee Urges Universities to Regain Its Premier Position in Higher Education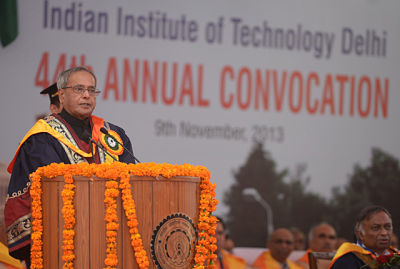 During 12th Pravasi Bhartiya Divas on Thursday, President Pranab Mukherjee asserted that the time has finally arrived for the country to regain its premier position in the field of higher education.
India was once recognized for its world famous universities such as Takshashila, Nalanda, and Vikramashila.
"Time has now come for us to reclaim our leadership position in the world as far as higher education is concerned. Our efforts to increase 'quantity' must be matched with commensurate efforts to improve 'quality.' We must lead our institutions into the ranks of the best in the world," President Pranab Mukherjee was quoted as saying during the occasion.
President Pranab Mukherjee had been travelling all over India as a visitor to central universities (IITs and NITs) stressing on the fact the country had not produced a single Nobel Laureate after Sir C.V. Raman.
"I have been urging our educational institutions to invest more in research and development and pursue greater international linkages by establishing collaborations with foreign universities and inviting the best of faculty from across the world to come and teach in our institutions," said Mr. President on the occasion.
How does this post make you feel?