Mars Orbiter Mission: ISRO's long jump in Space

New Delhi: On November 6, 2013, Indian Space Research Organisation (ISRO) successfully launched its Mars Orbiter Mission (MOM), also known as Mangalyaan, through PSLV C25 rocket from Sriharikota. In 44 minutes, it entered Earth's orbit where it will stay for 25 days. On December 1, it will start its journey to Mars. It is expected that MOM will reach the orbit of the red planet on September 24, 2014.
A major milestone in India's space program, MOM is India's first mission to Mars. This is the first time a country has been able to do a successful launch in its first-ever attempt. Mars Orbiter Mission will not only help us to study Mars but also help us to pan our study area to other planets of our solar system.
The mission has been instrumental in India's entry in the elite club of countries with best-known space programs. The technique used for the mission was much cheaper and was completed much more quickly than NASA's Mars program. NASA's Mars Mission MAVEN has been scheduled to be completed in five years at a cost of Rs 41 billion while ISRO complete the project in just 15 months at a threadbare budget of about Rs 4 billion.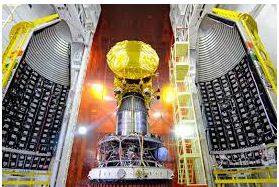 Using this technique, India will be able to develop high-quality satellites at a lower cost in future.
MOM project has opened up a host of interesting possibilities for India:
If ever Methane, Hydrogen and other minerals are found on Mars, India will be able to stake a claim too.
If human settlements are ever planned on Mars, India might be able to build colonies there too.
For now, India has established stations in Bengaluru and Port Blair in home country and in Indonesia and Brunei to record observations and information sent by the satellite. NASA will help too and it will record the observations through three of its stations – NASA Goldstone situated at USA, at Madrid in Spain, and at Canberra in Australia.
Right now, ISRO Chief Dr. K. Radhakrishnan is basking in the glory of the successful launch.
This post was written by Aditya Singhal, managing director of askIITians.
How does this post make you feel?