Leopard in IIT becomes a butt of jokes for the Twitterati!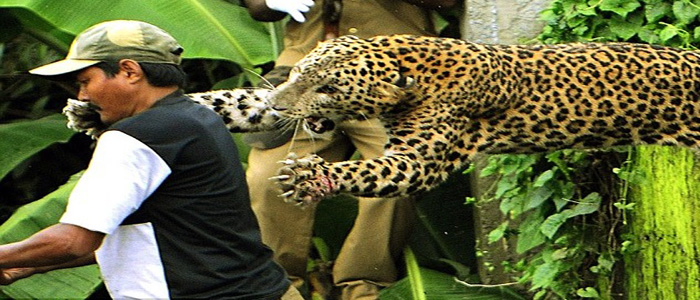 Everyone knows it that a leopard had broken into the Metallurgical lab in the campus of IIT Mumbai. The news brought some inmates to fears, and some to tears. But as Forest Department officials were busy trying to catch it, the twitterati were up to something thoroughly different! They were airing jokes related to the incident! And those very really very funny! Now as the leopard it out finally after 4 days, let have a look on these jokes and tickle our funny bones too!
Here are some of the best jokes-
1. Mahatma Aladdin @Alllahdin1h
Leopard enters IIT
Leopard lives there for long
Leopard makes babies there
Government- 'Hamare aane wale engineers Sher hain Sher'
2.  The-Lying-Lama @KyaUkhaadLega 
Leopard enters IIT campus -> Graduates -> Takes UPSC exam and becomes Income Tax Commissioner -> Starts a Political Party -> Goes back to jungle
3.  Gaurav @bwoyblunder 
Vaidik has gone to meet the Leopard that has strayed into IIT Powai campus and tried to bring a Hriday Parivartan in him.
4.  Ankur Singh @BihariTweeter 
Question- Why did the Leopard went to IIT?
Answer- Kyunki sab use kehte the 'Leo Padh'
5.  Satbir Singh @thesatbir 
A leopard enters Powai campus, IIT Mumbai. Next, it will go to an IIM. Thereafter, an FMCG company.
6.   Gaurav @bwoyblunder 
Chetan Bhagat after learning about the incident- 'Damn you leopard! If you had come 15 years ago, I would had another plot point for my book.'
7.   Ra_Bies @Ra_Bies 
Authorities to Leopard: Why did you enter the IIT complex?
Leopard: Well, I wanted to study at IIT & be like Arvind Kejriwal.
Authorities: But you're a leopard, and not a rat!
8.   Dorkstar @Dorkstar 
Leopards in IIT? These reservations are getting ridiculous now!
9.   Rofl Indian @Roflindian 
Breaking News: IIT Mumbai announces a full time B. Tech program in wildlife photography. A leopard brought to campus!
10. Khamba @gkhamba 
I think the headline should be IITian spotted at Leopard's home!
11. PGK @peegeekay 
Has the Leopard posted on Quora yet asking for opinions on a good salary after campus?
12. Dilliwallah @ProudDilliwala16m
Well, we won't be surprised if the Leopard joins AAP next!
13. Dorktor Who @sidin16m
Question: How did the Leopard get into the IIT?
Answer: Through 'Spots' Quota.
14. T2 ka Raja @scarysouthpaw 
That leopard's name might be there in the toppers list of IIT- JEE this year. Please check.
15. Obstetrix @ScissorTongue 
Breaking News: The leopard that broke into IIT turned out to be pimple ridden nerd.
16. Supragya @RedIronPriest
Indian Father to Son- 'A leopard got into IIT, but only you couldn't.'
17. Swadeshi@shaibal @shaibalrockstar
Leopard- I want to study in IIM after IIT.
Admission Head- But then you will have to pass CAT for MBA.
Leopard- Don't worry on that, I am already a big CAT!
18.   Rashi Kakkar @rashi_kakkar
These IITs are such over-achievers. Anyone heard that a leopard entered IIT? In my college only cats and dogs could ever got in. Damn these over achievers!
19. SK @sunainak
Only sher da puttars get through to IIT. So basically the leopard proved all Punjabi moms right.
How does this post make you feel?