Has JEE format changed for better or worse?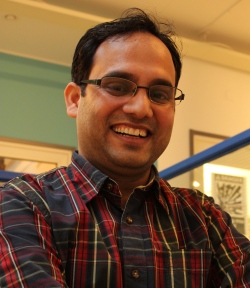 I am Rajiv Dandotiya. I work as an Assistant General Manager in a drilling company called Maersk, which is based in Copenhagen, Denmark. My journey from a government school of Rajasthan to a PhD from a European University is a dream path that IIT-JEE paved for me.
I literally studied under trees, in government schools of Rajasthan. My teachers would hardly ever come to school and students who took private tuitions from school teachers used to get more marks in practicals. To pass board exams, students would take tuitions or memorize lessons to somehow secure passing marks. I hated memorizing and somehow managed to pass exams too. As soon as the academic year ended, students would sell their books and buy cricket balls from the money.
Students hardly knew how to study or the value of education. I was no different. With 39% in Class 12 board exams and grace marks in Chemistry, I secured 5th rank in my class! To pass boards was a big achievement for us. What stung me was a comment one of my teachers passed when I went to seek his blessings after the board exam results were declared – "You are touching my feet as if you have secured top position in the merit list!" It was hardly surprising that I was not at all interested in continuing education after completing school.
I passed Class 12 in the 1995 and started helping my father in the small factory he had started. We struggled a lot but we had to close down the business after two years. I decided to use my time to study further. It was then I realized that 39% in Class 12 boards makes me ineligible for all B.Sc courses as well as PET Rajasthan (teacher's training exam). I was desperate to do something. It was then a bookseller told me that I could appear for IIT JEE.
I started my IIT JEE preparation with three books – M.L. Khanna, Gupta & Gupta and O.P. Agarwal.  All the books were in English and to decipher them, I bought an English-to-Hindi dictionary too. Cracking JEE became my passion. As I started understanding concepts, I really started enjoying problems on my own – instead of turning pages for solutions.
People made fun of my JEE preparation . They said, "Not good enough for PET and dreaming of IIT, huh!" But my parents and elder brothers encouraged me to keep trying. In 2000, I cleared IIT JEE but not with a good rank. My brother was ill and had to be hospitalized. I had to help out in my father's business, do household chores and cook too. All the cooking I did then came handy when I was studying in Europe.
In 2001, I could only attain a rank of #3453, which was not enough to get me a seat in an IIT. A coaching class approached me to join them as JEE expert and provide engineering coaching to other students. I chose to re-apply next year. In 2002, I managed to get a rank of #1758.
During JEE counselling in IIT Bombay, my candidature was about to get cancelled because of board exam results. Only after intense discussion, my counselor allowed me a seat in 5-year dual-degree programme in Industrial Engineering & Management at IIT-Kharagpur.
I had my sweet revenge. All those who had taunted me were praising me now. My more successful school-time friends were running small shops. But I soon realized that my journey had just started.
In the third year, I started paying attention to the qualifications companies who came for campus recruitments asked for. Almost all of them asked for at least 60% marks in boards. With their doors closed on me, I decided to apply for internships at IIT Bombay and at RDSO (Indian Railways), Lucknow. My experience at RDSO became the basis of my B.Tech and M.Tech project, for which I won the 'Best Project' award at IIT KGP.
Surprisingly, Force Motors at Pune did pick me up from 600 candidates who gave their interview and offered me direct entry to their management cadre. The offer was quite tempting but I chose to pursue PhD from Lulea University in Sweden, which offered me a scholarship.
I earned my PhD in 3.5 years by helping the Mining Industry of Sweden to find a solution to a tricky decision-making problem in maintenance. We received the award by the Swedish Centre of Maintenance Management for the achievement.
I wonder whether the current JEE pattern would allow one to turn around their lives like this. I think subjective exam format of IIT JEE was much better in ensuring that only quality students could pass through it. Objective questions are much easier to crack and allow many loop holes in the exam.
I also think that making board exams such a vital component of IIT admission process is 'elitist' in nature. The truth is that it will take ages for students from villages to become board exam toppers. With only a handful of good schools in India, we cannot expect Class 12 board students to be at the same platform.
What do you think? Do post your comments here.
How does this post make you feel?