An IITians Rags to Riches Story
Nobody would've thought that a man with college dream to see girls in DPS having ice-creams will one day become the founder of The Viral Fever ( India's first Authentic New Media youth channel).
Arunabh who once ran away from IIT-Kharagphur has this incredible passion for an eventful life, which he believes is his X factor. He's also known for Qtiyapa series that broke all records of success and became the second most viewed independent video in 2011.
His take (Rowdies) on popular TV reality show Roadies became the 3rd most viewed independent video back in 2012. And his Gangs of Social Media last year in February reached a million hits in just 2.5 days, which is still a record in India.
Arunabh is currently running a revolutionary outfit, which has become the second largest youth entertainment channel after MTV.
Interestingly, Arunabh had changed over 14 schools between standard 5th and 7th for various unknown reasons. He ran away from IIT Kharagpur after 4th day of joining.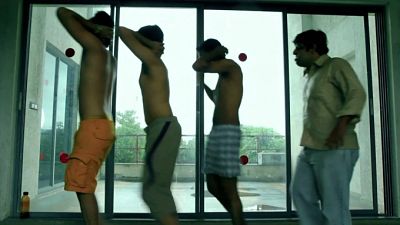 His love for cinema and TV started back in college when his video "Where is my mind?" became popular. To pursue career in films, he moved to Mumbai where he met officials of Red Chilies and landed up a contract to write and direct a feature.
In 2010, his script for MTV's Engineer's Diary was rejected by MTV's officials for creative reasons. But he kept pursuing his dreams with intensity and incredible zest.
He was secretly hatching the concept of The Viral Fever amidst his failures and consistent rejections. And consequently, success came following him. He became the proud founder of The Viral Fever, Qtiyapa Series (Inglorious Seniors). Rowdies in 2012 became the 3rd most viewed video in India ever. His Gangs of Social Media series reached a millions hits in just 2.5 days.
There's been no looking back ever since. His Jha-2, Gaana Vaala Song, Gangs of Social Media, Ek Thi Behen and many more series on The Viral Fever have become trendsetter by crossing million hits.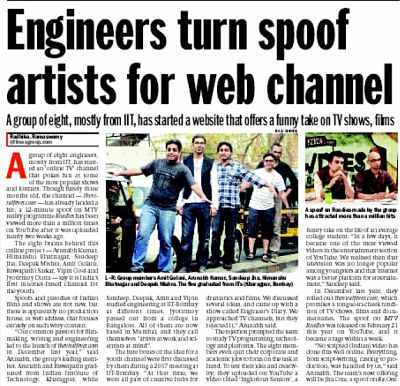 "We look at ourselves as Creative Jehadis. We are looking to create India's biggest youth entertainment network by positioning ourselves as the Audi of content. Further, we look at our content as device agnostic by virtue of its duration and style. It can be consumed across platforms and devices and this kind of consumption will only increase," Arunabh says. "In a country like India where market leaders like Zee, Colours and Star in the General entertainment space have revenues in excess of 1500 Crores, youth entertainment channels have a revenue of less than 50 Cr with the exception of MTV which at around 150 Crore, a number still abysmally lower than GECs. It's a pity that this is the scenario in a country we call youth centric."
Arunabh's story is true rags to riches story that we normally hear in books. He is an ideal example of breaking odds in society and launching dreams that's become a huge rage among Indian youth today.
This post was published by Aditya Singhal, co-founder of askIITians.
How does this post make you feel?