IIT Delhi lists pollutants affecting Golden Temple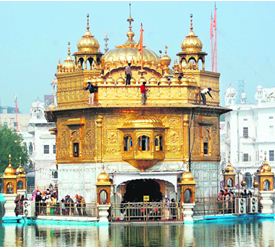 New Delhi: Taking cognizance of the letter written by the Gursewak Singh to the Punjab and Haryana High Court,  the court had asked the Punjab government to investigate whether it was true that the pollution in and around the Golden Temple in Amritsar is affecting the golden plates of its domes.
Thus, the Punjab Pollution Control Board (PPCB) tied up with IIT Delhi to conduct a study on pollution in and around the Golden Temple.
In the interim report submitted by IIT Delhi experts, the sheen of the marble and metal used in the main building of the Golden Temple is certain getting affected adversely by the pollution created by vehicles, industries, generators, burning of crop stubble by farmers and above all, tandoors or clay ovens that are used in restaurants around the Gurudwara.
The study was conducted in a 10 km radius around the Golden Temple. Shiromani Gurdwara Parbandhak Committee (SGPC) voluntarily paid Rs 4 lakh towards and the Amritsar Municipal Corporation (AMC) paid Rs 2 lakh towards expenses of the study.
Punjab government has been asked by the court to act on the recommendations of IIT Delhi experts and file the status report before it.
Talk to IIT Delhi experts at askIITians and know their study experiences.
This post was written by Aditya Singhal, managing director of askIITians. (IIT Delhi Alumni)
How does this post make you feel?