My Horrible Chetan Bhagat Moment with Two Interesting Zombies from BITS and IIT-Madras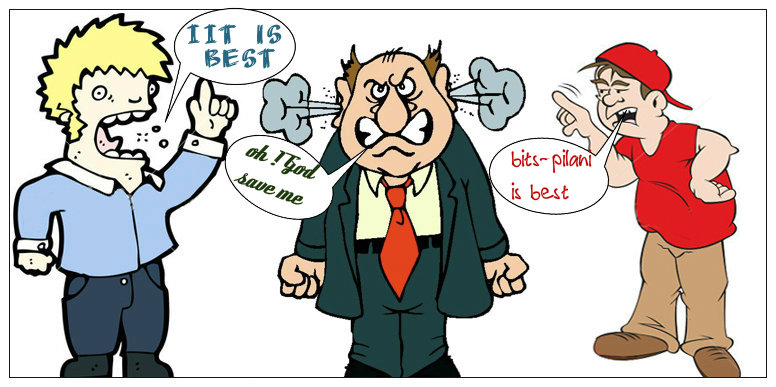 All right! Guys, how many times did you have a real Chetan Bhagat moment in your life?
I mean meeting hot strangers of opposite sex on a long boring journey as the one in his book "One Night at a Call Center".
Never! Seriously!
If you had no such moment in your life then you are damn lucky because not everything in real life goes exactly like the way written in books.
Well, I had a Chetan Bhagat moment, sans any simmering glamour, last week on my flight from Chennai to Mumbai. Two really interesting looking guys sitting on my either side proved a pain in my backside. These two monsters in jackets were more horrible than the entire Air India's cabin crew.
The guy sitting on my right side was sporting uneven beard growth while the guy on my left was wearing makeup louder than Rakhi Sawant.  And my life turned upside down the moment the guy on my right side introduced himself to me as Pankaj Jain—an IITian from IIT-Madras. The guy on my left, the one who was wearing makeup, jumped off his seat like a kangaroo. Needless to say, my introduction was cut in-between by this overtly curious animal.
The kangaroo, I mean the guy on my left, introduced himself as Chuchunder Chabrra from BITS Pilani. After that the two endangered examples of blood-sucking vampires hardly noticed me sitting on the seat.
"So, one more suicide in IIT last week! What are you up to guys? With this rate of students committing suicide, you will soon have to introduce a course in Suicideology," chuckled Chuchunder Chabrra. "When will you guys stop torturing little engineering hamsters?"
After listening to his derogatory comment on IITs, I knew the third world war had just started.
"Ah, well, look who's saying! I heard that you guys spend more time with girls than books. The day is not too far when you guys will take to streets to demand a subject in Loveology," pat came the reply from Pankaj Jain.
Chuchunder Chabrra knitted his brows and said, "Well, it's at least better than living like a gay when you are actually not. Isn't it?"
"Gay? We? Well, it's you wearing makeup like you are here to make money," Pankaj defended the reputation of IITs strongly.
"Whatever! We're the best engineering institutions anyway," said Chuchunder Chabrra.
"What? What makes you think so?"
"Well, we got the best infrastructure."
"So do we."
"We got the best professors."
"And so do we."
Chuchunder Chabrra fumbled and paused for a short while to come up with something unbeatable. And with a vulgar Ranjeet-like-smile he said, "We got girls more than you do."
Pankaj was suddenly out of words. He fidgeted on his seat like a restless child and made an absurd comment to save the dignity of IITs, "We too have girls."
"Forget it Kiddo! I mean actual girls. Girls that behave like girls. Your girls eat more than a WWE fighter and sport facial hair like Anil Kapoor. I heard it somewhere that one of your IIT girl was once mistaken for John Abraham with overgrown stubble," Chuchunder Chabrra wasn't ready to give up that easy.
"Stop it right there! How does that prove that you are better than us by the way?" Pankaj asked furiously.
"If that doesn't then what else does."
"What do you mean?"
"I mean a good ratio of girls to boys is important in overall academic performance of everyone."
"And what's the science behind it, weirdo?"
These two engineers have now become bloody alligators ready to gobble down each other. And my condition was like an innocent poor guy stuck in a war between Japan and America in world war-II. In fact, it was worse. Worse than a bad constipation!
"Studying with opposite sex makes you work harder," Chuchunder explained.
"Wow! You mean we have never produced great engineers. Bring on the statistic man and I will show you the number of world renowned alumni from IITs."
"We too have famous alumni from BITS if you haven't forgotten that."
"I have not."
"Then you must have not forgotten this either that a student of BITS received the highest package ever in the history all engineering institutions in India."
"I know but IITians receive higher packages than other institutions every year so what if you've bagged the highest package just once."
"All right! You can't deny this one. We host better fests than you do."
"IITs have started doing better too. We will soon outsmart you."
The two were not ready to stop. I had to intervene personally.
"Enough is enough guys. Your two are now sucking blood out my body like leeches. If you still want to continue this groundless conversation then for God's sake one of you sit on my seat," I kept my statement as polite as possible.
They looked at me surprisingly as if I had appeared out of nowhere like a Jinni from Alladin's lamp.
They pulled themselves back a little silently and didn't look at each other for a while. I was really exhausted of all of it. I could've asked for nothing than this beautiful silence.
"I am consultant in a corporate firm and my package is 18 lakh," the IITian on my right shouted suddenly without even looking at the student on my left.
And I jumped off my seat literally. It was like a bomb exploded inside my ear when while I was sleeping. I could now really connect to the trauma of people living in terror ridden countries like Taliban.
"Well, mine is 12 lakh but its core, man!"
"So, What…sss!"
To my utter horror, their argument continued till our flight landed at Mumbai airport. Exactly when I was about to leave the aisle, Chuchunder Chabrra stopped me to ask who I thought was better of the two.
I threw my jacket on my shoulder and took a long sigh of relief before I said, "You both are great. There's no comparison at all. Besides, this competition doesn't really matter. What really matters is that both of you have made the country proud. We are all proud of you."
They looked at me surprisingly. Then they looked at each other in sheer dismay.
They stopped me once again right when I was at the exit gate to ask my name.
"Avadhesh K. Mukherjee," I replied.
"And what do you do Avadhesh?" Pankaj asked quickly.
"I am professor at NIT- Tiruchirappalli."
The two were shocked to death. I could see their reaction. Worse than bad constipation! Although I didn't enjoy their conversation, I felt really good when these guys did not drag the name of NITs even once in their stupid conversation.
My answer to them was like my reply to the pain that I had suffered during the flight. I could understand why the United States finally resorted to throwing atom bombs on Japanese.
This post was published by Rakesh Singh, The product head at askIITians and an IIT- Delhi and IIM-Kozhikode alumni.
How does this post make you feel?