BITSian Writes First-Ever Mobile Phone Novel in Kannada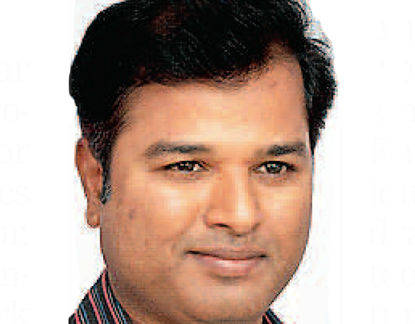 New Delhi: 38-year old Vidyashankar Harapanahalli is not just another techie working at Bengaluru. In an effort to give expression to his ideas, he used his commuting time to pen a 72-page Kannada novel on his mobile phone – a Samsung Galaxy Note 2. His novel 'Kanasina Chitteya Hidiyalu Horatu' (translated as Out to Catch a Dreamy Butterfly) will soon be released in the book format.
This is the first-ever mobile phone novel in Kannada.
Vidyashankar is a Senior Project Manager in the Electronics City and an IT major from BITS Pilani. He travels daily to his office from his home at Kengeri, which is 33 km away. It takes him one hour in commuting on the company bus. He started typing in the novel from October 21 and finalized it by mid-November. It is now being published as a book by Advaith Publications.
The BITS Pilani alumnus has done MS in Software Systems and is passionate about both Kannada and English literature. He has also penned several stories for Kannada journals and webzines. A collection of his articles called 'Shubha Sankalpa' will also be released with the novel.
Vidyashankar says it was after a nightmare he was pushed into writing the novel. The nightmare shook him so that he had to relax in the dormitory at the office. On the way back to his chamber, his eyes fell on a butterfly and there his story started.
He downloaded a special Kannada app to type in his imaginary story. He used to type almost a full chapter of 350 words everyday while commuting to and fro from office. The novel is about the philosophy of life and the importance of meditation.
This post was published by Aditya Singhal, co-founder of askIITians.
How does this post make you feel?