From 3 to 36 #MyStoryContest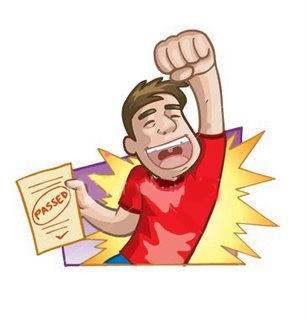 Getting a 3 in the mains and getting 36 in carry over is not that easy. It's my friend Sanket who did this .It was all his hard work n labour with a bit of help of mine as I was very good in maths. Yes this was the subject and like many student my friend also fears from this haunted subject and if it's M2 of B.Tech a scholar may also shiver, as it was the toughest.
He asked me to help him with this and being best friend n good in maths i agreed for it. I went to his room with the M2 book. But believe it was not that easy as he was not able to solve a simple differentiation question, which was the indication that it the most difficult task i have taken because I am not at all a good teacher .Although i began with the question and he was not able to solve any which was making my pressure rise .I needed something to relax my mind as everyone know how i engineers relax themselves i too had a smoking stick. The full day went making him learn the formulae. I knew i have to do something better.
The next day i planned something. As in my childhood my tuitions us to punish me in front if everyone and i was able to learn all the stuff in next class because of ashamed, so i thought why not to go for negative motivations. For each wrong i started shouting in the balcony that sanket don't even know the formulae's, and as the girl's hostel was in front of ours hostel he ran away from the balcony and started learning it. It seemed like the trick was making it easy. Later he himself started putting up the question rather than me giving him.
There was a question bank in our university which was popularly known as the `bharmhastra` so i went for that as there was  the question which have been asked earlier also with the solution of it. And slowly he was able to solve them a bit.
It was just a day left before the exams and i was not feeling that i have really helped him to pass. I randomly gave him some of the question which i thought may come in exam and told him just to practise those type as i knew any extra thing will create a mix-up's I told he followed any instruction and went for the papers.
The paper was from 10-1pm and i was totally tensed that will he be able to solve the question will he use the correct formulas  There was the wrestling match going in my mind .As the clock showed it was 1:15 i called him ,i asked him about the paper and he told it went awesome .
I was so happy to hear that i can't believe we did it actually it was all his labour and a bit of luck of mine as the same question were asked which i told him to practice.
And finally after a month result came from 3 in the mains he went on to score 36 in the carry paper .We has a great party that night .He kept on saying guruji tussi great ho toffa kubul karo…. 🙂
This post is contributed by Akshay Prasad, an IIMT Engineering College Student
You can also participate in "My Story in My Words" Contest   and win Exciting Prizes.
How does this post make you feel?