The new National Exit Test (NExT) is now a must for Medical Practice!
The current Medical Council of India would be replaced by a National Medical Commission.

The final year examination in MBBS courses will be converted into a licentiate examination and will be used for entrance into postgraduate courses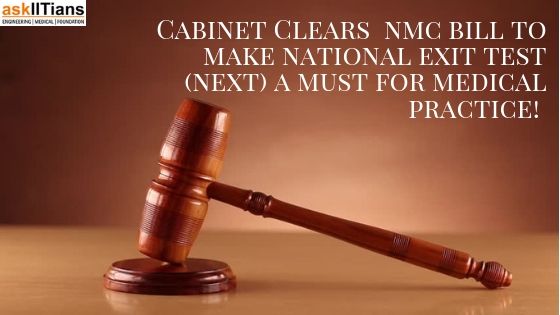 The union government has come up with a plan to revamp the National Medical Education System. Now every PG Medical Aspirant will have to clear the National Exit Test (NExT) which is a must for medical practice.
The Union government plans to convert the MBBS final year examination into a licentiate examination. which will also be used for entrance into PG medical courses, and act as a screening test for foreign medical graduates too. This common entrance test will be called NExT- The National Exit Test!
The Union Cabinet on Wednesday cleared a bill to set up a National Medical Commission (NMC), which will have responsibilities such as approving and assessing medical colleges, conducting common MBBS entrance and exit examinations and regulating course fees.
The National Medical Commission Bill 2019 proposes to repeal the Indian Medical Council Act, 1956. NMC will replace the Medical Council of India (MCI) The bill seeks to unify all entrance procedure for medical courses such as NEET exam, the common entrance exam for MBBS admission. NExT and the Institute of National Importance (NIB) such as All India Institute of Medical Sciences (AIIMS) to com under this uniformity.
How does this post make you feel?