Snapdeal Enters Online Education Marketplace to Hasten Its Billion-Dollar- Turnover Dream—Shocks Flipkart!!
Co-founded by IIT-Delhi graduate Kunal Bahl, Snapdeal, India's online marketplace giant, is all set to enter the services commerce space for the first time ever with the launch of its education marketplace. According to business analysts, this is the first such move ever by any Indian products-driven e-tailer.
This move by Snapdeal not only intends to take lead over Flipkart, Snapdeal's closest competitor, but also seeks to hasten the company's billion-dollar turnover target. In fact, Snapdeal with this project in a few months will become the first ever online retailer in India to surpass the billion dollar mark in turnover.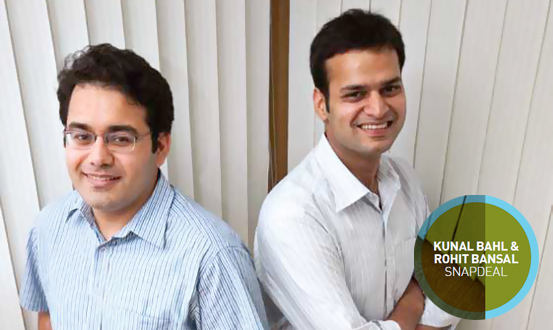 From just a 'deals site' to an online marketplace giant in India in 2012, Snapdeal has come a really long way since its inception in the year 2010.
"The online education market place is expected to become $3-4 billion strong over the next few years in India. Services commerce, which does not involve physical distribution of goods, offers better profit margins, making it a highly viable business for internet companies to scale up. There are lots of companies, which have great learning content but no marketing and distribution. They face the same challenges which seller of physical products faced before e-commerce started to become big," said Kunal Bahl during an interview.
Snapdeal will start its venture in education marketplace with services into financial products (insurance, loans) and utility payments.
"The online marketplace has tied up with around 20 merchants including meritnation.com and edukar.com, besides others, and expects to have 150 merchants ton board in another two months. They would offer courses ranging from kindergarten to class XII along with management and engineering courses," said Rishabh Arora, AVP at Snapdeal.
Snapdeal.com is currently operated by Jasper Infotech.
"In mature markets, online marketplaces for services have scaled up in a big way. There a huge scope for online services commerce in India to grow as it is highly fragmented currently, said Tarun Davda, VP at VC firm Matrix Partners India.
Snapdeal's biggest rival and competitor, Flipkart (co-founded by Sachin Bansal, ex-IITian) is widening its product portfolio after the news Snapdeal entering into Education Marketplace became viral.
How does this post make you feel?