From Selling Tea to IIT, These Brothers have come a Very Long Way!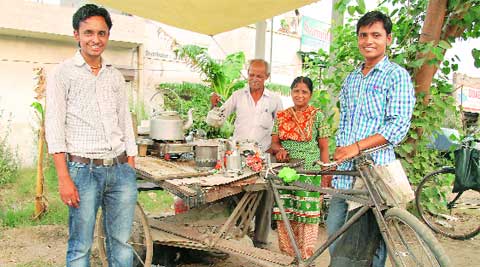 They did it yet again! They cracked the prestigious IIT- Joint Entrance Examination last year too, but could not secure admission due to the poor financial condition of their family. Sons of a tea seller, Amit and Sumit, have cracked the examination this time also and hope to get admission into an India   Institute of Technology, if luck favours them.
Jatinder Kumar, their father, has been selling tea at Chugitti Chowk, near Amritsar bypass, to those working at nearby factories and shops, for the past 20 years. They hail from Sitamarhi in Bihar and stay together in a small room at Laddowali with the family.
Bearing the expenses of his children's studies, along with taking care of his sick wife, has been difficult for Jatinder. But last year, when Jatinder got injured and the responsibility of the family fell on the shoulders of young Amit and Sumit, thins became more difficult for all of them. Alongside preparing for the IIT examination, these children had to run their father's tea shop as well.
Sumit has secured 809th rank, while Amit has got 2014th rank in JEE Advanced. As soon as the results were declared, people started approaching them and many even offered to sponsor their future studies. State Bank of India's Assistant General Manager, Satish Verma, said the bank had decided to sanction a loan for the brothers and they would make it easier for them to apply and get loans anywhere. Further he said that the bank had also opened their accounts and deposited Rs.5, 100 each in them.
Verma said, "There are many who want to make contribution to the boys' education further, but are not able to approach them, therefore we are making both the accounts public. In this way anyone can come forward to make contribution."
He said the bank would handle all the expenses of Sumit and Amit, when they go to New Delhi and Dhanbad for counselling for the admissions.
The bank has also arranged for their tickets and stay in New Delhi, and will provide them with laptops.  SBI account numbers of Amit and Sumit are 33908862936 and 33908860359 respectively, which are now open to public.
Phagwara civic body commissioner, SPS Marar, said that as soon as he came to know about the boys, he decided to contribute towards their education. He has also asked some of his friends to contribute and they have agreed as well. He will meet both the boys on Monday, and see how he can help them more.
The family is overwhelmed after people from various walks of life have extended help to them.  On this, Sumit said, "I am really grateful to God for showering so much happiness on us. We really appreciate that so many people are approaching us to help."
He also added, "We attribute our success to our parents, who despite great complications, provided us education and stood by us all the while. We also thank our teachers for guiding us and teaching us without charging any fee".
The brothers also met the education minister, Daljeet Singh Cheema, who congratulated them and also promised to provide whatever help is possible.
How does this post make you feel?