Only One School from NCR Has made Its Way in the CBSE's Top 10 Schools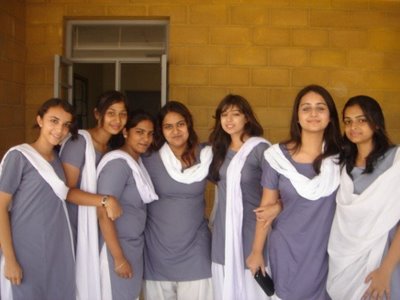 New Delhi: Among the top ten schools of CBSE this year, Chennai is on the top with 3 schools scoring the maximum average aggregate in the Class XII CBSE Board exams, followed by the Heritage School of Gurgaon at fourth position.
As per the statistical reports, there are eight Indian schools with an average aggregate of 90% and more with English and best four subjects taken together. Among the states, Tamil Nadu is on the top with an average aggregate of 80.7%. Also the statistics have shown that good level of performance has not been restricted to the schools of metro cities, but there are cities like Satna in MP and Jalgaon in the Maharashtra with 100% students scoring above 80%.
The top three schools which have scored the highest average aggregate are DAV Girls Senior Secondary School, Lloyds Road, with 91%, DAV Senior Secondary School, Mogappair with 90.7% and DAV Boys Senior Secondary School, Lloyds Road with 90.6%. The interesting fact is that all the top three schools are from Chennai.
With some more detailed statistics, among the total, around 1.59 lakh students which is approximately 27.8% of the total number of student appeared have scored above 80% in aggregate. Also, 51,000 students which is approximately 9% of the total students appeared have scored 90% and above, which is highest ever in the history of Class XII CBSE Board exams conducted till date. There are odd 554 CBSE affiliated schools across the country which has recorded an average aggregate of above 80% this year.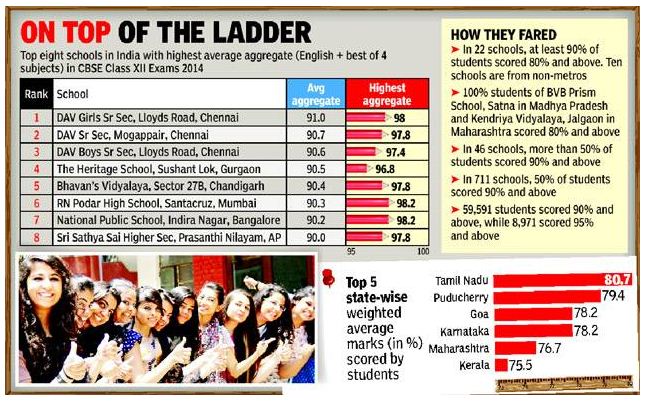 The result analysis when done school-wise had revealed that there are some odd 46 schools which has more than 50% of its total strength scoring an aggregate of 90% or above in the Class XII Board this year. In those 46 schools, there are nine schools from Delhi, two are from Kolkata, eight are from Chennai, one from Mumbai and six are from Bangalore. In this category there are a total of eleven schools are there from Delhi-NCR. Hyderabad seems to be completely out of the picture. Also, there are 711 schools with more than 50% of the students scoring 80% and above, which is again a record for CBSE.
The much interesting fact is that the good performance has not being limited till the metros but small and mid-size cities have also recorded a great performance this year. With the top three schools in the category of 90% students scoring 80% and above in the aggregate are the schools from the cities like Mankahari (MP), Balehonnur (Karnataka), and Jalgaon (Maharashtra).
How does this post make you feel?