NIT Rourkela: Why to Join It?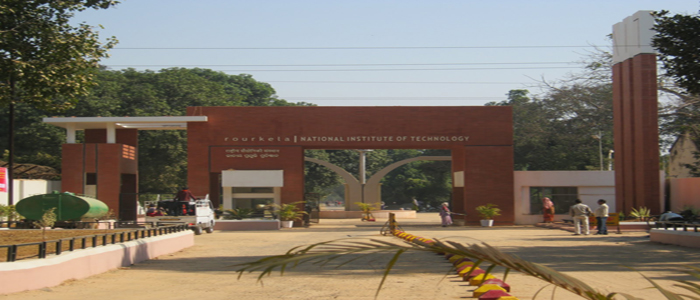 National Institute of Technology, Rourkela or NIT Rourkela in Odisha is situated in a medium-sized metropolis well-connected by road and rail. 7 km from the railway station, NITR campus is spread across 1024 hectares – making it the largest campus in India after IIT Kharagpur.
NIT Rourkela ranking by ABP News is quite high. It was ranked as the 'Best Government Engineering College' and 'Outstanding Engineering Institute of the East' in 2013.
Most popular of the NIT Rourkela courses is undoubtedly Mechanical Engineering. JEE Main cutoff rank 2013 for admission in NIT RKL Mechanical Engineering course was #8900. The 5-year dual degree programme offering B.Tech in Mechanical Engg and M. Tech in Mechatronics & Automation come a close second. Last year JEE Main cutoff rank for the course was #9361.
Last year, 482 UG students and 127 PG students received offers during NIT Rourkela placements. In undergraduate programmes, 78 jobs went to CS students, 69 to EE students and 63 to ME students. In 2012, ME had bagged most jobs – 97 out of 579 job offers to UG students, followed by EE students who received 83 job offers and CS students who bagged 79 placements. In 2011, 87 companies visited NIT Rourkela and extended out 713 job offers.
In NIT Rourkela placement season in 2012, 28 dream companies and 16 super-dream companies like Microsoft, Goldman Sachs and Tata Steel joined campus placements. 8 pre-placement offers were extended out while 726 placments were recorded.
Highest Domestic Salary offered in 2012 was: Rs 10.40 lakh per annum (lpa)
Highest International Salary offered in 2012 was: Rs 30.65 lpa
Notable faculty of the institute include Dr. Debayan Sarkar who has a received a number of very prestigious awards and fellowships, such as 'DST-Inspire Faculty Award' and 'BRNS-Young Scientist Award' in 2013 and the Fullbright Nehru Postdoctoral Research Fellowship 2012-2013 at Stanford University, US. His research grants add up to about Rs 1.2 crores.
The main building of NIT Rourkela is situated centrally in the campus. There are ten halls of residence for students – seven hostels for boys, two for girls, and one of the NIT Rourkela hostels reserved for married students pursuing doctorate degree courses and full-time research. Boasting of one of the most advanced computer networks in India, NIT RKL campus has about 5,000 modes with an internet bandwidth of 180Mbps and 850Mbps intranet bandwidth and a computer for each student and faculty member.
NIT Rourkela also houses TIIR Centre or Technology Innovation & Industry Relations.
Sports facilities are excellent and the Dilip Tirkey stadium hosts several national-level university tournaments. Besides, students can participate in more than 40 clubs related to technical, cultural, literary interests etc. INNOVISION, the technical festival; SPORTS FIESTA; NITR UTSAV, the cultural festival; and International Students Meet or ISM are most famous annual events of the institute.
The institute is bordered by small mountains to the south, which is often used as a picnic spot by students.
How does this post make you feel?