MBBS Applications at AFMC Begin on April 20th, 2014 – AIPMT 2014 Scores to be considered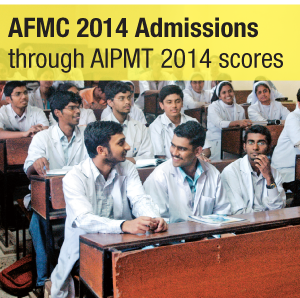 This academic year beginning 2014 will mark a change in the history of both AIPMT and AFMC. The scores obtained by students in All India Pre-Medical Entrance Test-2014 (AIPMT) will now be considered for undergraduate courses in MBBS at the Armed Forces Medical College (AFMC), Pune. Candidates willing to study MBBS at Armed Forces Medical College will have to apply separately for the admission in the college.
Slated to begin on April 20th, 2014, MBBS applications at AFMC will only be available online. There are total 105 seats reserved for MBBS course out of which 105 seats are for male candidates and 25 are for female candidates.
Scores obtained by students in AIPMT will allow them to go for the second round of screening at AFMC for the admission in the college. Key eligibility criteria for students taking admission in AFMC include:
The age of candidate should be between 17 years and 22 years.
The candidate should be medically fit.
The candidate should be unmarried.
Candidates are not allowed to marry during the course.
Shortlisted candidates will serve as Commissioned Officers in the Armed Forces Medical Services. Commissions will be offered to candidates depending on the vacancies. Parents or guardians of the shortlisted candidates will have to sign a bond confirming the commission liability of admission.
AFMC also offers courses in Nursing, Post graduate Medical courses, Super Specialty Medical courses, PG Diploma and Para Medical Courses.
AIPMT is being conducted on May 4th, 2014 by CBSE. Its scores will help students for admission to 15 percent of seats in Government Medical/Dental College and are also used by participating private colleges.√É'Äö√ā¬†
How does this post make you feel?