Look, IIT Kanpur is Beaming with Freshers Walking-in!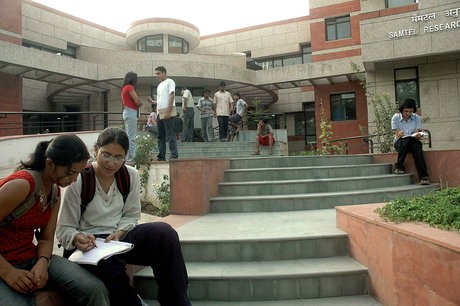 IIT Kanpur is bustling these days! Though the academic session for new students at IIT Kanpur is yet to commence from the 28th of this month, but they had started reporting on Wednesday itself. The students had come from places far off places like Andhra Pradesh, Bihar, Tamil Nadu, Rajasthan, Maharashtra, and other states of the country. The students were accompanied by their parents. Orientation programme for these new students was held on Thursday.
Around 450 students had arrived on Wednesday and another lot of 250 students came on Thursday morning. A session of separate orientation programme for the parents was also be conducted. In these sessions, the dean of student affairs and head of counselling service addressed the parents and the students. Also, the students were addressed by the institute director as well.
The students were thrilled to be in a premier engineering institute of the nation. Many amongst them were sad as well as they will be departing from their parents and staying in the hostel provided within the campus. The students and their parents liked the IIT Kanpur campus, as it is very impressive being lush green and well-maintained.
Meanwhile, students and their parents made purchases of household stuff like mattresses, buckets, bedsheets, etc., which they would be requiring for daily usage. Many of them purchased bicycles too. Bicycles will be the mode of transportation for them within the campus, and they will be using bicycles for going to the classrooms and mess.
Deepak who had come from Hyderabad said that he chose IIT K as it has noted faculty members and good infrastructure both. "I will now pursue BSc in mathematics" said a happy Deepak.
Lokesh Yeole, who comes from Dhuliya district in Maharasthra and has taken admission in materials and matellurgical sciences department, is also in love with the campus.
Kartikeya Nimani, who wants to pursue BTech only from IIT K, was pleased to be here. Another boy Pradeep Kumar from Rajasthan, who has taken admission in the electrical engineering department, is also very happy.
The hostels and the rooms were also allocated to the students on the 1st day. 3 students each are being accommodated in one hostel room. And they have met each other and introduced themselves. This introductory session continued for long, after which the students also saw the hostel mess and went on for a campus tour with their parents and room- mates.
How does this post make you feel?