Jayant Sinha: An IIT and Harvard graduate, who instigated Universal Identification Number for Indians.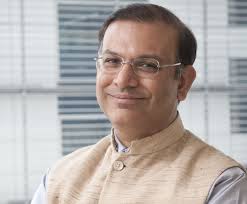 He joined IIT Delhi and passed with distinction. He went to Harvard and University of Pennsylvania to master his skills. With more than 25 years of experience, Jayant Sinha has entered the world of politics as Minister of State in Finance Department.

Initial Years:
Jayant was born on 21st April, 1963 in Giridih, Jharkhand. 51 years old Jayant was a management consultant and an investor before he became one of the junior ministers in Modi's cabinet. He completed his BE from IIT Delhi, MBA from Harvard and MS from University of Pennsylvania. He has been elected as a representative to student's committee. A fervent player of tennis, he represented his college for varied inter-college events like debates, quizzes and theatres. He also worked as a radio announcer with Yuva Vani and Delhi B.
Work Profile:
He started his career with McKinsey Company in Boston as one of the partners for Boston and Delhi offices; and co-led the Global Software and IT Services Practice. At McKinsey he was known for operational and strategic projects with varied corporations across the globe. He was associated with McKinsey for more than 12 years.
He joined Courage Capital as Managing director, a registered advisor and hedge fund specialist company to lead their investment in India; before his stint at Omidyar Network.  After Courage Capital he served Omidyar as Managing Director. He was one of the partner's and member of global executive committee. Omidyar India's profile witnessed growth of $100 million and 35 companies were added. Apart from these major companies, Jayant has also been on board of various companies. He was also invited to and has been invited to join International Finance Corporation in Washington DC.
Political Career: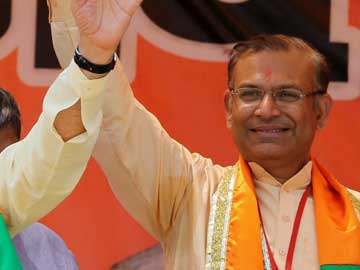 Jayant Sinha has been a part of Indian politics for over 15 years as a policy maker. When Yashwant Sinha became the Finance Minister, he (Jayant) provided ideas and inputs on how to draft policies on tax deductions. The idea of Saral form, for quick and easy filing of income tax was Jayant's idea. A much easier and simpler form allows the individuals to file for their returns on their own.
Jayant has been supporting his father for election campaigns from Hazaribagh in Jharkhand. He has been taking up projects such as to build roads and has also been stimulating self-help groups. He is also known for working with Narendra Modi to develop and form National Economic policies for year 2014. He was also found hosting and organizing a Business Leaders Forum at an International level in February 2014. After being associated with politics for more than a decade, he contested as an MP from Hazaribagh; a seat that was once represented by his father; and won the elections with a huge margin. He swore on as a junior minister on 9th of November 2014.
Jayant is an intense supporter of Inheritance tax, once known as Estate duty in India. This Estate tax was discarded by Rajiv Gandhi's government during their ruling period. He favours the idea of imposing a tax on the wealth passed by the rich after their death, so that the inheritors do not get an unearned advantage of the riches passed to them.  Many countries such as US, UK, Belgium, Spain, the Germany and the Netherlands support this tax.
At one of the famous awards show Jayant gave following reasons, as why he supports the idea of Estate duty/ Inheritance tax:
It will help to reduce the advantage that the business people have now by 50-55 percent.
It will help the business people to venture into different profiles, rather than getting settled in their ancestors business.
Philanthropy
Personal Life: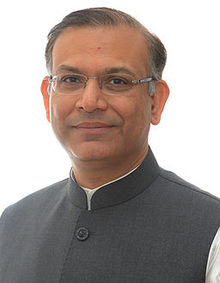 Jayant Sinha belongs to political family. His father, Yashwant Sinha is a well-known face. His mother, Nilima Sinha is one of best writers for mystery novels for children and has been an active member of AWIC (Association of Writers and Illustrators for Children) and IBBY (International Board on Books for Young People).
He married his classmate in IIT Delhi, Punita Kumari (now known as Punita Kumar Sinha). She works as an independent investment advisory and the couple is blessed with two sons; Risabh and Aashir. Jayant Sinha is one of the promising Ministers as he is one of the most educated ministers. Hope to see that he comes up with policies that are really helpful for general public.
How does this post make you feel?