How Indian Institutions can Mount Top World University Rankings?
Just a decade old, the concept of World University Rankings has raised to the status of a well-accepted yardstick which measures quality of higher education institutions across the world. Shanghai Jio Tong University of China was the first one to launch its 'Academic Ranking of World Universities' in 2003. Other international rankings that have found favor with academic experts are published by Times Higher Education (THE) and Quacquarelli Symonds (QS) every year.
Status of Indian Universities vis-à-vis World University Rankings
India, with its over 700 universities and more than 35,000 colleges, failed to make it to the list of Top 200 institutions of the world in THE 2013 rankings. This drew flak from many quarters.
Many newspapers covered stories of how the best-known IITs failed to make the cut and absence of Indian institutes in Top 100 or even Top 200 lists of best institutions across the world. Our PM and President seem concerned about it. They have urged the Indian universities to improve their quality on various occasions. On the other hand, many academic leaders from IITs and IIMs have opined that the methodology of these global rankings is not relevant for Indian institutions. They have also claimed that institutions 'buy' their positions on these rankings list and the ranking process is not as fair as it claims to be.
Why should we try to improve our Global Rankings?
Crucial to improve India's image as a World Power: Not even one Indian University in Top 100 throws a bad light upon our entire education system. For a country that sends successful mission to Mars and harbours dream of being a major power, it is a shame that not even one of its universities made the grade.
It's time to catch up with the World: Absence of Indian universities is a reflection how we have neglected our higher education. It was only after 2006 report of the National Knowledge Commission; steps have been taken to remedy the situation. Many universities from other Asian countries have been able to raise their world rank status because they did invest in their higher education system decades earlier. Now, it is time for India to break the mould and expand its horizon.
Nurture India's soft power: India is considered to be the 'Cradle of Civilization' where first global university was established. Even today, Indian-origin academics and intellectuals continue to play 'leader' in many ways across the world. We should try and preserve, even enhance India's soft power by strengthening our India's education sector. The soft power of a country comprises intangible aspects like education, values and culture that make it distinguished.
Know focus points to improve Education Quality: The most important reason why we should try to adapt to the global rankings system is that it provides us with parameters by which to judge the overall quality of our higher education sector. If our elite institutions fail to make the cut, one can only imagine the status of education in other universities and institutions.
According to the National Assessment and Accreditation Council (NAAC):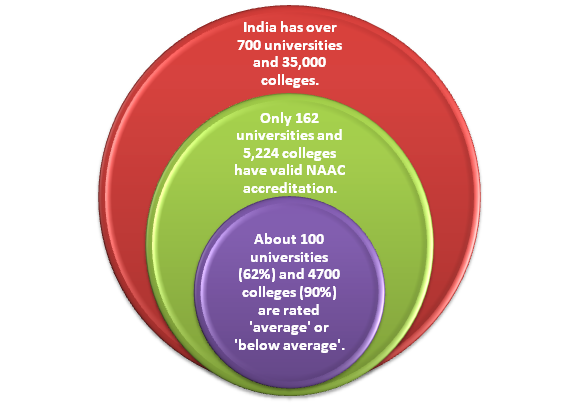 Since the government has now made it mandatory for all colleges and universities to have validNAAC accreditation, we will find the statistics look much worse in the times to come.
Measures India needs to improve its higher education sector
Quality Parameters we should focus on: While India is getting desperate to place one or more of its institutions in the Top 100 best institutions list, it is more important to focus on building world-class departments and universities at the moment. While doing so, we should not limit ourselves to the limited parameters used by world rankings. We should leave no stone unturned to improve the quality of higher education offered to students. Some of the important parameters we need to focus on are:

Resources or funds for the institution,
Vision and planning for the institution
Autonomy for the institutions while ensuring that it is in good hands,
Well-qualified faculty members,
Ability to attract good students,
Ability to produce students that have high employability factor and readiness quotient academics, industry or entrepreneurship.
Attract International-level faculty: The most important of these parameters is hiring good faculty. At present, Indian education system does not attract best faculty from across the world. In these times, when faculty can frequently move across borders, Indian universities should try to lure more capable, knowledgeable and experienced faculty members at the international level. We need to pay more and be less bureaucratic to attract such faculty.
Producing more quality PhDs: Besides, India also needs to work on increasing the number of home-grown quality PhDs who are at par with West-trained PhDs or those holding doctorate degrees from other Asian and Middle Eastern universities.
Need better education policies: Faculty crunch is further intensified by 'reserved' positions that often remain unoccupied. While existing faculty is reluctant to hire candidates that are better than them, younger PhDs tend to prefer cities that are larger and offer more facilities. It is more important to create education policies and infrastructure that can resolve such issues.
Idea of 'One IIT, Different Campuses' is Unnecessary!
Last month, there were announcements that all the 16 IITs might pool in their resources to push up their rankings as 'one' entity. Phil Baty, Editor of Times Higher Education Rankings, disagree with such an idea. He says, "Presenting the data differently will hit the spirit of such global rankings. It is not a game. The aim should be to help Indian higher education sector overcome its challenges."
Academic experts say that presenting IIT as a single entity with different campuses may increase the number of research output and citations which is a vital parameter in most popular university rankings worldwide. However, it will not help if these numbers are scaled to size.
In a 2009 study, it was said that for in IITs, each faculty member publishes one research paper every year.
His or her counterpart at the Massachusetts Institute of Technology (MIT) comes up with six research papers in the same time.
If we think of IIT as 'one', research papers published by a faculty on an average will be less than the average number of research papers by an IIT Delhi or IIT Kharagpur faculty member. In such a situation, IIT rankings may slide down further.
Better performing IITs, such as IIT Delhi or IIT Mumbai will lose their identities and a chance to make it to the top of these rankings on their own.
What do you think Indian universities, especially the IITs, should do to improve their rankings? Do post your comments below:
This post was published by Nishant Sinha, co-founder of askIITians.
How does this post make you feel?