Increasing number of PPOs in IITs: Good Trends for Placements This Year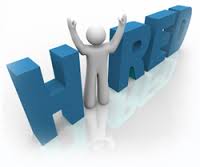 Pre-placement offers in this academic session at some of the premier engineering institutes have increased to a great extent in comparison to last year and it seems to be an indication of better times for the placements this season. This year Pre-placement offers at IIT-B has increased to 25% of what it was last year.
Not just IIT-B, but several other engineering institutes have also seen a rise in the internships being offered to the students. For this reason, IIT-Madras has initiated an independent internship cell which shall function in sync with the placement cell of the institute.
A comparison of this year and last year's PPOs being offered till first week of October to the students of top Engineering Institutes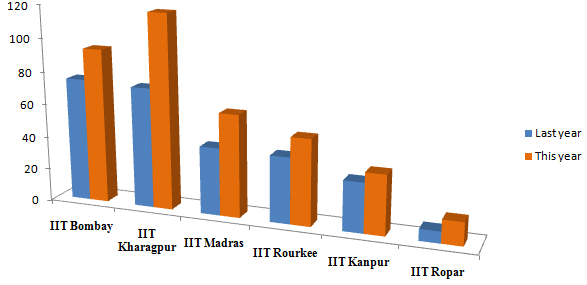 By the first week of October this year more than 92 PPO have been made at the IIT-B Powai Campus which was close to 74 last year till October. The professor in charge of placements, IIT-B, Avijit Chatterjee said, "By the time the placement season concluded this year we are hoping the numbers to reach much more height. This is a positive signal for the placements and is definitely better than that of last year's placement scenario." He added, "The Pre-placement offers being made till October this year has increased the total number of offers made last year. Indian companies are offering packages up to Rs 20 lakh to the students and it is a good sign."
Students of IIT-Madras have been offered a total number of 67 PPOs last year and till now the number has already crossed 60. Placement advisor, IIT-Madras, Babu Vishwanathan said, "Increase in the number of PPOs is always great for both students and institute as well but the fruitfulness of it can only be known by December end. We shall wait for these companies to come up for yet another fresh round of recruitment at the time of final placements.
Why Companies Offering PPOs?
Pre-Placements offers to the students are made by the companies basically due to the trust on the candidate's potential and caliber and also to secure him/her for their organization. It is also an Assurance of job for the qualified students and enables them with a lot of confidence to perform well. The PPOs are increasing also due to the increase in the interest of the companies taking students for internships. As said by placement advisor, IIT-Madras, Babu Vishwanathan, "Companies are more keen to take students for internships as this can let them have sufficient time to analyze the student and then to make an offer. We are also working on the activities for internship programs just for such companies."
List of Top Companies offering PPOs to some of the top most institutes this year so far
| | |
| --- | --- |
| Institutes | Companies offering PPOs |
| IIT Bombay | Microsoft, Shell, Qualcomm, Futures First, Samsung, Intuit, Deutsche Bank, P & G |
| IIT Kharagpur | Facebook, Samsung R & D, Shell Technologies, HCL, Dell, Goldman Sachs, LinkedIn, Microsoft |
| IIT Madras | Shell Technology center, Futures First, Microsoft, Qualcomm, LinkedIn, Samsung, HUL |
| IIT Rourkee | DirectI, D.E.Shaw India Software, Shell Technology center, Samsung R & D, Qualcomm, Adobe India |
| IIT Kanpur | Qualcomm, Deutsche Bank, Adobe Credit Suisse, ITS, Samsung, Schlumberger, VMware |
| IIT Ropar | Amazon, Flipkart, D.E.Shaw India Software, Arista Network, HUL |
Highest Packages offered by companies to Indian Student this year so far
With the ongoing Placement season and PPOs being made by the domestic and international companies to some of the top most institute of country, Google has offered the highest annual package of whooping 1.4 Cr ($ 2, 35, 000). Last year Google offered Rs. 93 lakh at IIT Kharagpur and similarly IIT Roorkee, saw Facebook hiring students at a package of Rs. 80 lakh.
Not only Google and Facebook, but there are several other tech giants that offered high packages to the students of some of the top engineering colleges in India. The IIT-B placements were always high in compare to others but this year the trend seems to get towards the IIT-KGP. Although the Pre -placement offers at IIT-Bombay has rose up to a margin of 25% in compare to last year's figure, but it is to watch that how companies turn up in the final placement drive in December this year.
Placement statistics breakdown of IIT-Bombay according to the type of organization:
| | | |
| --- | --- | --- |
| Sector | Number of Organizations | Number of offers received (2013-14) |
| Analytics | 32 | 119 |
| Consulting | 28 | 89 |
| Education | 14 | 55 |
| Engineering and Technology | 76 | 324 |
| Finance | 17 | 71 |
| FMCG | 8 | 25 |
| PSU | 4 | 27 |
| R & D | 18 | 42 |
| Software & IT | 65 | 262 |
| Services | 11 | 53 |
Not only IITs, but several other Engineering institutes are also observing similar rise in trends of increasing number of PPOs. NMIMS has also having an increase in the number of companies showing interest in offering internships. According to the Dean, NMIMS, Sharad Mhaiskar, "More and more number of recruiters are following similar process and most of them are from the core engineering sectors. Companies hiring interns usually recruit them and offer the final placement offer."
How does this post make you feel?