IITs Rock but IITians have a Rock for Heart!
Every year, millions of Indians pay 2% CESS tax on their earnings, which goes directly for higher education. A large chunk of this tax (about Rs 2,000 crore) is allocated to IITs and NITs. Most certainly, these Indians have no clue how insensitive and apathetic IITians really are. Let me tell you about some real glimpses from my life at IIT.
On the Independence Day, one of our aspiring Secretary of Hostel Council, was assigned with the task of bringing at least 10 people from his wing for flag hoisting that was to take place at 8 am. As he went to each room requesting people to come "just for 10 minutes", all he could get in return was:
"What's up buddy? Go to the next room. I am not coming."
"Let me sleep, man. Ok! I'll come if you say F*** off Gandhi!"
"That foolish Mess Manager delayed breakfast for this stupid flag hoisting. Stupid Freedom!"
Losing a few precious hours of sleep ticked off most of the IITians.
Few could see the irony. Children from slums, who have nothing, celebrate Independence Day & Republic Day with big smiles, shouts of 'Bharat Mata ki Jai' and Tirangas in hand. On the other hand, IITians who have the best facilities, best Professors, free mess, & tuition fee waivers ridiculed the celebration.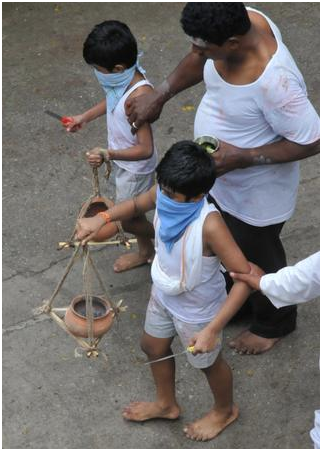 A few who did attend flag hoisting were made fun of as 'Indians' who woke up early for one piece of sweet! What is the point then for our country to invest our already-scarce resources in people who don't even care about the Nation.
I know someone would say that it is easy to talk about being ideal, but one needs to be more practical to be really productive. So, here is another incident that shook my belief in the IIT system.
ES 200 quiz was scheduled on August 13 and all my classmates were either 'invisible' on Gmail or had status messages that said 'DND' or 'Mugging'. And then the news spread – 'Swine Flue ROXXX. We have an off for 4 days!'
Everyone went into celebration mode.
The status messages quickly changed to "Screw Professors, Screw Quizzes, Swin Flu ROXX", "Swine Flu CraXX, Extended Weekend, Enjoy!"
Everybody wished each other for the mini-holiday package. Many quickly planned vacations. People laughed at getting surprise holidays and postponement of quiz. Only one of my friends seemed shock and locked himself in a room. We called him 'Maggu'. Why would one be not happy over such a deal?
It was only later we realized that he was from Pune – the centre of the epidemic – and 4-5 people from  his colony had tested positive. He was worried for his family, his neighbors and his friends. In his eyes we were demons celebrating deaths!
On one hand, IIT authorities were making their best efforts to protect us from swine flu and on the other hand, we were wishing that one or two of would test positive so that our holidays can get extended. It was only my friend from Pune who could relate to the grief of the relatives of swine flu victims whose photos were published in the newspapers.
If these affected ones knew the truth of the IITs, wouldn't they refuse to pay the CESS tax?
If an IIT faces a terrorist attack and security guards at the gates of IIT are able to ward it off at the cost of their lives, will we still celebrate the holidays we get after their deaths?
Shouldn't we as IITians and supposedly intellectuals be more sensitive and more concerned about our society and our nation?
What do you say about it? Do post your comments here. This post was published by Nishant Sinha, co-founder of askIITians.
How does this post make you feel?